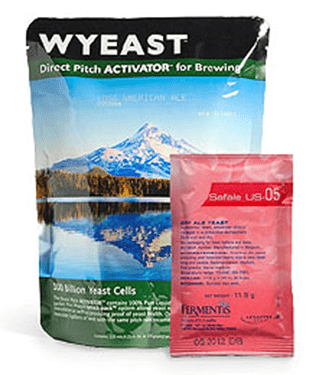 Guest beer blogger, Heather Erickson, shares some of her tips and insights about liquid and dry beer yeast.
————————————————-
When I first got into homebrewing, I was introduced to the Wyeast Smack Pack. This is a pouch of liquid yeast that has within it another pouch of activator that can be busted open by smacking it.
I can't lie, it was kind of fun smacking that direct beer yeast activator and watching those little yeasties start working. Over the years, I have experimented with dry beer yeast and well, I'm torn between the results. Below are some of the pros and cons of liquid beer yeast vs dry beer yeast.
Pro: Liquid beer yeast offers variety
With Wyeast offering over 50 different beer yeast strains for homebrewing, variety is quite possibly the spice of life with liquid yeasts. From a Belgian Strong Ale to a good ole American Ale, the variety of liquid beer yeast strains seem pretty endless. Besides the everyday ale/lager yeasts, liquid yeast varieties also include seasonal offerings.
Pro: Dry beer yeast keeps longer
As a once a month home brewer, I find myself in two scenarios: either I am scrambling for brewing ingredients the day of, or I am crossing my fingers that my beer yeast is still healthy. The dry yeast alternative negates that second worry. Staying fresh for up to two years in the refrigerator, a dry yeast option like Fermentis Safale US-05 is a high-performing alternative to my usual go-to liquid beer yeast smack pack.
Con: Liquid yeast is more expensive
If we are just looking at the numbers, on average, a liquid beer yeast pouch is about twice as much, if not more, than a packet of dry beer yeast. While cost might not be a concern if you prefer a certain type of flavor that a beer yeast provides, the economics are still worth noting.
Con: You won't know if your dry beer yeast is healthy unless you rehydrate
Rehydrating dry beer yeast prior to pitching seems to be a point of contention among homebrewers. While some believe this step is necessary to ensure healthy yeast cells, others feel that it isn't. Even dry yeast manufacturers are torn on the topic. A dry beer yeast packet boasts anywhere from 200-300 billion yeast cells, compared to 100 billion in liquid yeast. Pitching the dry yeast straight into your fermenter without rehydration could end up killing some of those cells, up to 50% or so. Taking that into account, the number of cells in both liquid beer yeast and dry beer yeast would end up being just about equal.
Besides water, yeast is arguably the most important ingredient in beer. Without it, you just have sugar water. That's why there has always been such a big debate about using liquid beer yeast vs dry beer yeast for homebrewing your beer. It's an important piece of the brewing puzzle.
My advice? Test out your tried and true Pale Ale recipe with a Wyeast 1056 and a Fermentis Safale US-05. Whichever pint you prefer is the yeast you should use.
Happy brewing!
—–
Heather Erickson is a homebrewer with three years experience and has competed in the GABF Pro-Am Competition. She writes the blog This Girl Brews and is a regular contributor to homebrewing sites. Find her on Twitter at @thisgirlbrews.