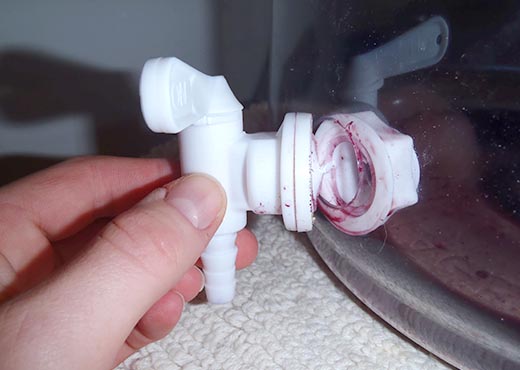 Just when I thought I was having all the good luck in the world….
….my first "disaster" in winemaking!
Well, I suppose I can't call it a disaster yet, as I still think the wine might end up being OK in the end, but alas, only time will tell.
What went wrong, you ask? Well, in two words:  structural failure.
OK OK, so I was checking on my Carmenere wine as I was getting ready for my day job, as I knew that evening I wanted to move forward with the next step and rack it into a new carboy (and by new carboy I mean same carboy, just cleaned and sterilized).   Everything was looking great, until I noticed a teeny tiny little drip drip drip behind the spigot.  Recall:  earlier I purchased a plastic carboy with a hole drilled out for a spigot, which I subsequently placed in the hole myself.
The drip was very curious, particularly since it JUST started and the wine had been sitting in there for 10 days or so by that point.  Odd.  I figured I could just place a towel under the spigot, go to work, and then immediately rack the wine into the primary fermenter to give me a chance to attempt a fix at the leak and get the wine racked back into the carboy.
So, I fiddled with the spigot a little bit thinking that it was not tight enough and it started leaking a bit faster.  Very concerned that I would be gone too long to allow a leak that fast, I decided to quickly rack the wine into the primary fermenter right then and there.  I hooked up the hose and started racking away.  All was going well until I decided to fiddle with the spigot a little more.  That was a BIG mistake.  Turns out, it was plenty tight enough.  Actually, it was TOO tight and my fiddling with it BROKE the spigot.  Wine spilled all over!  A few expletives were shouted but "fight or flight" kicked in and I stopped the massive leak and managed to get the rest of the wine racked into the primary fermenter.
In the end, I estimate I only lost about a bottle or so worth of wine,  so it actually was not as big of a loss as I originally thought it would be based on the "carnage" I saw.  My main concern has to do with potential contamination.  In the heat of the moment, I wasn't able to do as thorough a sterilization of the equipment as I would have done normally.  Thankfully, after the last time I used the stuff, I thoroughly cleaned and rinsed the equipment with scalding hot water, so hopefully I had that working in my favor.  I did manage to "toss in" a little bit of the sanitization solution (sulfites) into the primary fermenter before the fast transfer, so hopefully I did enough to prevent any contamination.
So, since I didn't have another carboy, the Carmenere is now chilling out in the primary fermenter with the oak cubes, and other ingredients that were listed on the next steps after racking.  As a result of this, there is a ton more head space than there would have been if it were in a carboy, so I'm trying real hard to keep the lid closed and not open it again until bottling day.
Lessons learned:  DON'T install plastic spigots onto plastic carboys too tightly.  Also, always be prepared for an emergency and pre-clean/sterilize all equipment even if you don't think you'll be using it any time soon.
Next steps:  secure either a new spigot or a new carboy.  Or both.
Hopefully no more drama for a while!
————————————————————————————————————-


My name is Leigh Erwin, and I am a brand-spankin' new home winemaker! E. C. Kraus has asked me to share with you my journey from a first-time dabbler to an accomplished home winemaker. From time to time I'll be checking in with this blog and reporting my experience with you: the good, bad — and the ugly.