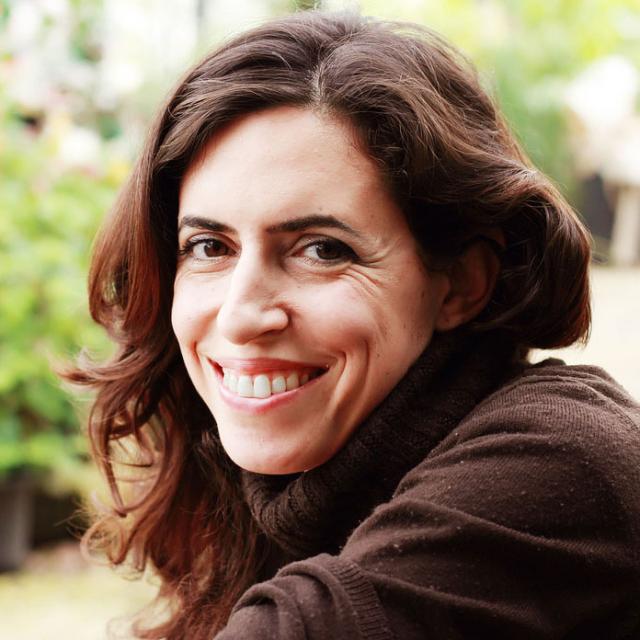 Well, hello there readers of the Homebrewing.org blog!
My name is Leigh Erwin, and I am a brand-spankin' new home winemaker!  E. C. Kraus has asked me to share with you my journey from a squeaky-clean new home winemaker to what I hope will eventually be an expert!  Well, maybe not an expert, but perhaps "more experienced".
Over the next few months I plan on sharing with you my experiences as a beginning winemaker: the good, bad — and the ugly. I hope all of you will take the journey with me as I periodically post my trials and tribulations as a first-time home winemaker on this blog.
—————————————————————————————————–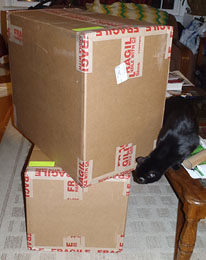 Today is a great day for me, as it is the day I received my very first home winemaking kit from Homebrewing.org.  The UPS guys dropped it off at my house before I got home, so I had to wait a couple of hours to open my new "babies".
I ordered my items on November 14th, and received the items in one piece 5 days later, just as promised.  The whole ordering experience was really easy for me.  I had a couple questions for customer service, and they addressed them all very quickly.  I placed the order in the morning on 11/14, and it was packaged up and shipped out that very same afternoon.  I'm not sure if it's always sent out the same day—it probably has to do with what time of the day you place your order, but since I placed my order so early, it was no problem!
Even though this is my first time making my own wine, I do have quite a bit of book knowledge about wine and winemaking.  I decided to order a beginner wine making kit, as I felt this would be a perfect start for someone who has only read about winemaking but never actually practiced it.  I chose a white wine, as I know the holidays are coming up, and since mine and my fiancé's parents only drink white wine, it would be a nice gift to bring to them (provided I don't mess it up!) at that time.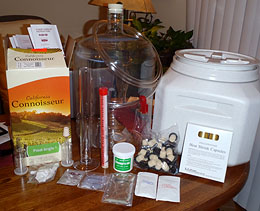 So, what did I order??
The main item(s) I ordered was the California Connoisseur Winemaking Kit, Pinot Grigio.  When I opened the box, everything that was listed as being present was accounted for, and nothing appeared to be damaged.
What does this kit come with?  Well, I received the following items all for one price by getting the Connoisseur Winemaking Kit:
Wine Yeast
Bentonite
Potassium Metabisulphite
Potassium Sorbate
Fining agents
1 – 9 Gal. Tuff-Tank with Rubber Stopper
Plastic 6 Gal. Carboy with Rubber Stopper
2 – Air Locks
21″ Curved Racking Tube
Racking Tube Clamp
Triple Scale Hydrometer
Hydrometer Jar With Base
Vinyl Racking Hose
24 Inch Stirring Spoon
Wine Bottle Brush
5 oz. CleanPro SDH Cleaner
50 Heat-Shrink Capsules
30 Mushroom Style Corks
Instructions
So much stuff for such a small price!  I took a picture of everything I received, so see for yourself!
I'm really excited to start making wine with this beginner wine making kit, and am really excited to share my journey with you.  Feel free to leave comments on if you think I'm ever doing something not quite right, if you have advice for me as a newbie winemaker, or maybe even words of encouragement!
Cheers!
#Leigh