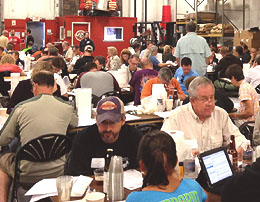 I recently had the pleasure of helping to judge the Blue Ridge Brew Off homebrew competition in Asheville, NC. Today, I'd like to share a bit about what it's like to be a beer judge.
—————————————–
For those not familiar, the BJCP (Beer Judge Certification Program) helps regulate homebrew competitions across the country and even abroad. It also certifies and ranks beer judges, helping to standardize judging procedures at the dozens of competitions that happen every year.
To make sure that the format of different competitions is consistent, the BJCP establishes guidelines for both beer styles and the way that competitions are administered.
Though the preference is to have all competition judges be certified, for larger homebrew competitions this just isn't practical. What usually happens is that experienced and inexperienced homebrew judges are matched together to collectively asses the individual entries.
On the day of the competition, judges are assigned to tables and beer styles. Typically, a group of 2-5 judges is assigned to judge the entries for a given style category. For categories with a large number of entries, multiple pairs or small groups will be assigned to a category, with each group sending their top beers to a "mini best of show" to pick the top three winners in the category.
My judging assignments for the day of the Blue Ridge Brew Off were Belgian and French Ale (Category 16) in the morning and Sour Ale (Category 17) in the afternoon. Starting around 9am, I paired up with another judge and we took one beer at a time and analyzed its aroma, appearance, flavor, mouthfeel, and overall appeal. In the process, we tasted Witbiers, Saisons, Belgian Pale Ales, and Belgian Specialty Ales. Several other sets of judges were doing the same, so the group as a whole could get through the 52 entries in the category. Each pair picked their one or two top scorers to compete in the mini best of show so that a few experienced beer judges could pick the top three in the Belgian and French Ale style category.


After judging 8-10 beers, it was time for lunch. Even though we were just tasting a few ounces of beer at a time, it certainly added up! Luckily, someone had cooked 100 lb. hog and brought in all the typical fixings — baked beans, coleslaw, sweet tea. All the beer judges were able to fortify a bit for the next round.
Next up were the sour beers. We had four judges and 10 entries, so we opted to judge all of the entries as a group. In the sour beer category, we rated Berliner Weisses, Flanders Red Ales, and Lambics. All had varying degrees of acidity and tartness, combined with malt complexity and in some cases, funky or fruity characteristics from wild yeasts and bacteria that are responsible for making sour beers sour. It wasn't easy, but we eventually settled on our top three.


After all the tables of judges finished judging their respective categories, the top beer from each category went to compete for the Best of Show. Meanwhile, there was a raffle to raise money for the local homebrew club. Along with a number of breweries and other retailers, E. C. Kraus donated a handful of Steak Freak recipe kits for the contest.
Judging a homebrew competition is one of the best ways to improve your palate and gain an appreciation for the subtleties that differentiate a good beer from a great beer. Don't be afraid if you've never judged before! Most BJCP competitions will be more than willing accept beginners to judge or steward — it's all part of the learning experience that makes the hobby so special!
Want to judge, steward, or submit a beer to a BJCP homebrew competition? View the list of scheduled competitions on the BJCP website.
——————————————————————————————————-
David Ackley is a beer writer, brewer, and self-described "craft beer crusader." He holds a General Certificate in Brewing from the Institute of Brewing and Distilling and is founder and editor of the Local Beer Blog.