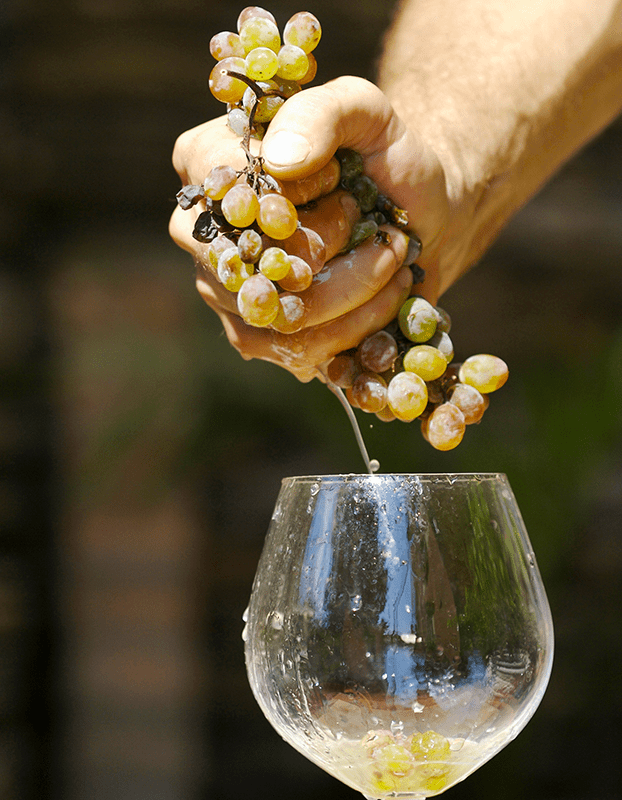 You say grapes must be crushed before pressing, what do you use to crush them with?
Thank you,
Tony
—–
Hello Tony,
Crushing the wine grapes is a very straight forward process. All you want to do is burst the skin of each grape. This is necessary to release the juice from the grape. It also allows the yeast and enzymes into the grape to further break down the fiber and release even more juice along with flavor and body elements that will make up the character of the resulting wine.
If you do not crush the grapes, you will discover that a significant number of grapes will not release any juice at all. They will stay whole when being pressed. Other grapes may only give up a marginal amount of their juice while being squeezed. This is true regardless of the type of wine press you are using.
On the flip-side, you do not want to over-crush the wine grapes. Doing so may release too much tannin. This could lead to a wine that is out of pH balance and bitter tasting. You just want to solidly burst the skins. As an example, don't pull out the food processor. That is not how to crush grapes and would definitely be overkill!
Another aspect to consider is that you need to remove the stems from the wine grapes at some point. A few stems are okay, but you do not want all of the stems in the fermentation. This too will cause the wine to become overly bitter with excessive tannin.
How you tackle the crushing of the grapes will depend on the amount of grapes you are dealing with. If you have just 10 or 20 pounds it wouldn't be a bad idea to crush them by hand. With 100 pounds you might get away with crushing the grapes by beating them with the butt end of a 2×4 while in a bucket. But anything beyond this, and you are going to want to start considering an actual grape crusher.
We offer four different grape crushers. They all crush the wine grapes equally well. The biggest difference between these crushers is speed. Some have de-stemmers with them, or you can de-stem the grapes by hand. Regardless, if you have a large pile of grapes, using one of these units is how you will want to crush your grapes:
Wooden Fruit Crusher: This is the smallest grape crusher we offer. It is hand-cranked and easily does about 80 to 100 pounds an hour. It is well designed and will crush small berries as will as larger fruit.
Stainless Steel Fruit Crusher: This is a manual grape crusher as well. The main differences are that it is rated at 1850 pound per hour and it is stainless steel, very easy to clean up. It also has rotating knives within the hopper for handling other types of fruit.
Motorized Crusher / De-stemmer: This is a motorize grape crusher. And as the name suggests, it is also a grape de-stemmer. The crushed grapes fall out the bottom and the stems will come out the side of the unit. It is rated at 2,200 pounds per hour.
I hope this information helps you out and gives you a better idea of how to crush your grapes. The bottom line is the wine grapes need to be crushed before they can be made into wine, and they need to be crushed by the right amount. Burst the skins thoroughly, but don't do more than that.
Happy Wine Making,
Ed Kraus
—————
Ed Kraus is a 3rd generation home brewer/winemaker and has been an owner of E. C. Kraus since 1999. He has been helping individuals make better wine and beer for over 25 years.