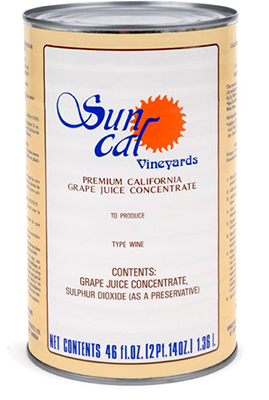 I was looking at your homemade wine kits and was wondering about using the SunCal concentrates to make a Chianti. I saw in the directions that for all the SunCal kits call for 6.5 pounds of sugar. Does this mean that these wine recipes are going to make a sweet wine? I have made wines in the past from buckets of juice and other wine making materials from a local supplier and never had to add sugar.
Barry H.
———-
Hello Barry,
This is a great question about an area of wine making that seems to cause a lot of confusion for some winemakers.
Alcohol is made when yeast consume sugar and turn it into alcohol. If the fermentation is successful there be no more than a residual amount of sugar left in the resulting wine – nothing that would make the wine sweet. All the sugar you add in the beginning is meant to be turned into alcohol leaving the wine dry.
With most homemade wine kits all the original sugars that the grapes provide are still in the concentrate. You are simply adding water to bring the concentrate back to a juice so that you can make wine with it. With the buckets of juice you got locally, all the original sugars were in them, as well, so no additional sugar was needed to achieve a reasonable alcohol level.
But in the case of SunCal Concentrates, not only is water taken out during the concentration process but some of the sugar is removed as well. This is why you need to add the 6-1/2 pounds of sugar. Without doing so you will not get enough alcohol from the fermentation.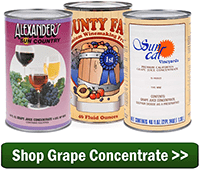 But what if you want a sweet wine, you say. This is something that is controlled after the fermentation has completed. It has nothing to do with the sugar added in the beginning; it as to do with the sugar added after the fermentation. If the fermentation goes as planned, you wine should always turn out dry.
If you want to sweeten your wine, the time to do it is right before you bottle. Just sweeten it to taste and then add a wine stabilizer (potassium sorbate) to eliminate any chance of re-fermentation, or you can use Wine Conditioner which has sweetener and wine stabilizer mixed together.
With this basic understanding of the role sugar plays in a wine you can make any of our wine recipes or homemade wine kits as sweet or as dry as you like. Make the wine the way you like!
Happy Wine Making,
Ed Kraus
—————
Ed Kraus is a 3rd generation home brewer/winemaker and has been an owner of E. C. Kraus since 1999. He has been helping individuals make better wine and beer for over 25 years.