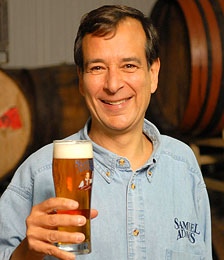 Many homebrewers love to make beer, but very few are able to take their hobby and make a living from it. Of those that do, however, several are now household names — at least among us beer geeks!
These homebrewers made the jump from bathtub brewer to pro. Will you do the same?
Jim Koch – Boston Beer Company
Jim Koch brewed his first batch of Boston Lager in his kitchen, using a recipe from his great-great grandfather, who was also a brewer. Samuel Adams Boston Lager launched as Boston Beer Company's first beer in 1985, with Jim going door to door to local bars to sell it.
Today, the maker of Sam Adams is the largest craft brewer in the United States! Boston Beer Company is so big that the Brewers Association adjusted their definition of what constitutes a craft brewery from someone brewing less than 2 million barrels a year to less than 6 million barrels a year. Either way, that's a big jump from the typical five-gallon batch of homebrew!
Ken Grossman – Sierra Nevada Brewing Company
Though he never graduated from college, Ken Grossman is behind one of the most successful craft breweries in the nation. Grossman ran a homebrew supply shop for a period in the 70s before meeting his future business partner. Grossman and fellow homebrewer Paul Camusi founded Sierra Nevada in 1980 and launched Sierra Nevada Pale Ale in 1981. Today, that beer defines the classic American pale ale, with its distinctive Cascade and Centennial hops. This year, Sierra Nevada will launch a second brewery in North Carolina.
The brewery is also known as a leader in sustainable brewing practices, with much of the power for the brewery provided by rooftop solar panels.
Steve Hindy – Brooklyn Brewery
Steve Hindy first started homebrewing while working as an Associated Press reporter in the Middle East. When he got back to the US, he expanded his homebrewing hobby and founded Brooklyn Brewery with his neighbor, Tom Potter.
Brooklyn Brewery is often credited for revitalizing the Williamsburg neighborhood of New York City, where it continues to brew its popular Brooklyn Lager. Read about Hindy and Potter's experience in Beer School: Bottling Success at the Brooklyn Brewery.
Sam Calagione – Dogfish Head Craft Brewery
Sam Calagione started brewing creative beers while working at a bar in New York City. In 1995, he founded Delaware's first brewpub in Rehoboth Beach. Sam provides inspiration for the many homebrewers out there who love to brew with herbs, spices, and other unusual ingredients. Meanwhile, the Dogfish line of 60-minute, 90-minute, and 120-minute IPAs are perennial favorites. A recent expansion has increased Dogfish Head's capacity to 500,000 barrels!
Read more about Calgione's journey from homebrewer to pro in his book, Brewing Up a Business.
What do you think? Are you prepared to take it to the next level?
——————————————————————————————————-
David Ackley is a beer writer, brewer, and self-described "craft beer crusader." He holds a General Certificate in Brewing from the Institute of Brewing and Distilling and is founder and editor of the Local Beer Blog.