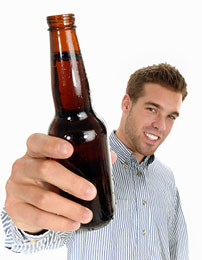 Interested in trading your homebrew? Larry Galbraith, founder of bottle share site bottle & barter, shares a new way for you to share your homebrewed beer and get valuable feedback from other brewers…
———————————————————
Hey homebrewers! Now that you've found your one-stop shop for homebrew supplies (Adventures in Homebrewing, duh!), we think it's time you start considering your next steps. You may be confused by this proposition, since for most of us "next steps" are usually distilled down to 1) brew, 2) wait, 3) bottle, 4) wait, and 5) drink (FINALLY!).
While these steps provide a high level of satisfaction (after all, what's more gratifying than drinking something you've crafted yourself?), we think they neglect to mention a key aspect of the homebrewing experience…specifically, sharing your successful brews with others! Letting others try your homebrew can make the lengthy process of obtaining your final beverage completely worthwhile…especially when they tell you how much they like it! Plus, getting feedback from your peers is an important part of becoming a better brewer.
We know your friends, family, and brew buds are constantly singing your praises about how excellent your homebrew is, and it's about time your best brews got some face time in front of the rest of the world, too. Thankfully, you now have the means to do just that! bottle & barter, a new website dedicated to everything homebrewed, would like to help you introduce your best brews to the entire US of A. It's your time to become a "cele-brew-ty"!
bottle and barter is designed to enable homebrewers to connect with each other both locally and across the country by helping them show off their creations, improve their techniques, and share their best homebrewed beers, ciders, and meads. Membership is open to U.S. residents 21 and over and is completely free. Once registered, homebrewers have the ability to:
Create their own profile and post homebrews
Search for homebrews in their area and across the nation
Exchange homebrews, where permissible by state law
Connect with other members and make "Brew Buds"
Review and rate the beers they have tried
Stay up to date on the latest brew news via the b&b blog
b&b isn't just a forum or a social network. It's a community of people across the nation united by the common desire to brew, share, and (most importantly) drink their homebrews with others. Think of it as show-and-tell for grown-ups on a national scale…hopefully you brought enough for the whole class!
Head on over to Adventures inHomebrewing to get your supplies (don't forget bottles and caps…we hate it when we do that!), and make sure to start showing off and trading your best brews on bottle & barter. It's time your homebrews got the credit they deserve!
For more information or to register, visit www.bottleandbarter.com, and don't forget to like the b&b Facebook page and follow b&b on Twitter: @bottleandbarter.
Thanks for reading and happy brewing!
-Larry Galbraith
Founder, bottle & barter
www.bottleandbarter.com
—————————————————————————————————————-
Larry Galbraith is a beer writer, homebrewer, and all around beer enthusiast. He is the founder of bottle & barter (www.bottleandbarter.com), a website designed to enable homebrewers to connect both locally and across the country.