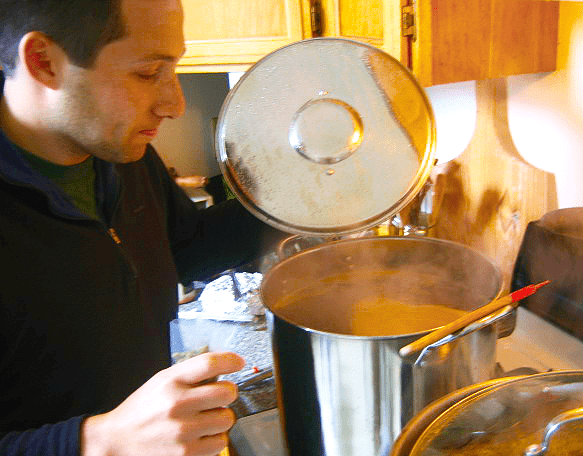 Are you overwhelmed by the idea of home brewing beer? Have you looked at all the tips and advice on the E. C. Kraus Home Brewing Blog and wondered whether brewing beer at home is something you can handle? You need home brewing made easy!
Though there is quite a bit of science behind brewing, making beer at home does not have to be complicated. Home brewing can be simple. In fact, simple home brewing is a goal for many homebrewers. Some find the hobby more enjoyable without all of the scientific measurements and calculations. Besides, if you think about the way people brewed hundreds of years ago, they didn't have thermometers and hydrometers or even very specific volume measurements. But you better believe they still made beer!
In its simplest form, home brewing can be done in very few steps. I've gotten them down to four. Here are the 4 steps of home brewing made easy:
Mix pre-hopped malt extract and water to make wort
Add yeast
Ferment in a fermenting bucket or carboy for about two weeks
Bottle or keg the beer, and enjoy once it's carbonated in about two weeks!
Here are five simple home brew kits that are very easy to brew. They're called extract kits, because all you have to do is mix the malt extract with water. The hops are already in the malt and a packet of yeast is provided along with easy directions. These types of kits are perfect for simple beer brewing. They are easy and follow the basic 4 steps listed above.
Munton's Nut Brown Ale – The Munton's kit makes a malt-forward, exceptionally drinkable brown ale, full of caramel and nutty malt flavors. Makes 6 gallons.
Mountmellick Export – This pre-hopped extract kit makes an Irish-style amber ale. Each kit makes up to 5 gallons of beer. Optionally, add an ounce of hops (try Fuggles or Kent Goldings) during the last 10-15 minutes of the boil for more hop flavor and aroma.
Black Rock Whispering Wheat – Creates a crisp, dry beer with a slightly fruity, wheat flavor. Makes 6 gallons. All you need is 2.2 lbs. of corn sugar.
Mountmellick Famous Irish Stout – This kit makes a rich, full-bodied stout in the tradition of Guinness. It has a rich, malty flavor with  a touch of coffee. All you'll need to do is mix the extract with water and corn sugar, then pitch the included yeast. Makes 5 gallons.
Once you master the basics of home brewing made easy, there are several easy steps you can add to the process, but they are entirely optional:
Use a hydrometer to measure the alcohol content of your beer
Steep specialty grains in hot water to add color or flavor
Add extra hops at different points in the brewing process
Increase or decrease the amount of water in the beer to control alcohol content
Eventually, you may get to the point when you brew partial mash or all-grain. But for now, realize that simple beer brewing is possible. Home brewing doesn't have to be complicated!
Still don't know where to start? Another great resource that will give you a basic overview of home brewing is the New To Brewing Section of our website. It will help to point you in the right direction.
———————————–
David Ackley is a beer writer, brewer, and self-described "craft beer crusader." He holds a General Certificate in Brewing from the Institute of Brewing and Distilling and is founder of the Local Beer Blog.