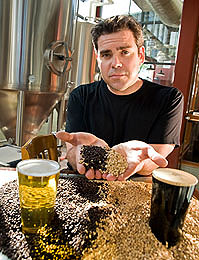 Most beginning home brewers start out brewing with malt extract kits. This is simple, not very time consuming, and the results are fairly predictable.
As a home brewer progresses and becomes more accomplished, they then learn how to add some grains to their brewing process in a concoction know as a partial-mash. There are partial-mash ingredient kits for them to choose from as well. This is a little more involved but opens the homebrewer to a larger world of beer styles.
Then comes the ultimate level of homebrewing: 'all-grain brewing'. As the name sounds, it is brewing beer with the use of no malt extracts whatsoever. All the sugars for fermentation come from malted barley grains themselves.
The popularity of all-grain brewing has increased by leaps and bounds in the recent past. There are many reasons why this could be for any one individual, but it is my personal belief that it usually has something to do with: accomplishment or learning something; having better control over flavor; or just having the ability to be more creative and adventuresome.
Experience: The all-grain brewer gets to experience a brewing process that is much more closely related to the process commercial brewers use. We here at E. C. Kraus know of several home brewers that have gone on to work for commercial breweries.
Ultimate control: You may use any malted grain of your choice as this method gives you complete freedom. It lets you have full control over the brewing process, and this is one of the main reasons why this method is gradually becoming the leading choice of people worldwide.
Increased creativity: For people who love to experiment, all-grain brewing becomes a great experience. Most of us want to create our own homebrew recipes. There are virtually endless combinations of malts and you can try the various combinations with different beer yeast types, temperature, hops etc. to make your own brewing recipe masterpiece. This method will give wings to your imagination and boost your creativity.
Fun and adventure: If you want to learn the secrets of brewing, this method gives you a nice opportunity to do so. You get to learn many things from experience. Many individuals brew all-grain to hone their brewing skills. At the same time, it is a fun-filled way that helps you in making good quality beer.
Beyond all these points, the process in itself is quite relaxing and it is an awesome experience to brew all grain. Being able to share a brew with friends, family and neighbors that you can say you made completely from scratch is a great feeling. To get more details on the all-grain brewing process, see "The Basics Of All-Grain Brewing". It spells out the process a little more clearly.
Happy Brewing,
Ed Kraus
—–
Ed Kraus is a 3rd generation home brewer/winemaker and has been an owner of E. C. Kraus since 1999. He has been helping individuals make better wine and beer for over 25 years.