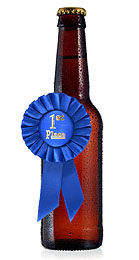 If you've caught the homebrewing bug, chances are that you've thought about submitting some of your beers in a home brewing competition. The cost is usually minimal — maybe $5-7 per entry — and the payoff can be huge. Many home brewing competitions offer as the grand prize an opportunity to brew your batch on a commercial system. Win a Pro-Am competition, and your beer could be served at the Great American Beer Festival! What could be cooler?!
There are a couple basic formats for home brewing competitions to be aware of, the open festival and the closed competition. In the festival format, you'll be placed behind a table to serve your homebrew to the attendees and the judges. It's a fun opportunity to "sell" your homebrew and yourself to other craft beer fans. Awards may be for different style categories, "People's Choice", or superlative-style prizes like "Strangest Ingredient" or "Best Use of Hops".
The closed home brewing competitions are usually, but not always, BJCP-sanctioned events where beers are submitted within certain style categories and are judged side-by-side with other styles in the category. These competitions a great because you'll get score sheets with helpful tasting notes from each of the judges. Keep an eye out for opportunities to judge or steward at the event! It's a great way to develop your sensory and tasting abilities!
Advice for Homebrew Competitions
To help you maximize your home brewing competition success, here are some tips:
Brewing a standard style? There will likely be a ton of pale ales, IPAs, and brown ales. Make sure you've tried the beer recipe at least once before, because competition will be stiff for the most popular beer styles.
If you can, submit more than one beer. This will greatly enhance your odds at gaining recognition for your brews.
Not sure which style category your beer fits into the best? It's usually ok to submit the same beer into more than one category. Read the competition rules for details.
Look for home brewing competitions outside your immediate area. Most competitions will accept mail-in submissions. Just don't mail USPS — it's illegal to ship alcohol via the postal service!
Brew outside the box to stand out from the crowd. This works well for a festival style home brewing competition, where people really let creativity fly. If you have something crazy to bring people to your table, this will increase the chances that they will try your other beers too. Before you know it, everyone will be telling their friends, "Hey, did you try that crazy beer over at table 17?"
What advice do you have for homebrew competition success?
——————————————————————————————————
David Ackley is a beer writer, brewer, and self-described "craft beer crusader." He holds a General Certificate in Brewing from the Institute of Brewing and Distilling and is founder of the Local Beer Blog.