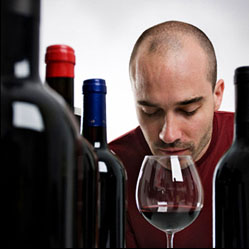 Making homemade wine doesn't have to be this impossible task: in fact, making homemade wine can be downright easy with the right tools, equipment, and knowledge!  Easy homemade wine begins with education-you'll want to become familiar with the history, science, methods, and typical issues that may arise along the way.
Easy homemade wine is certainly within your reach! Start by purchasing a few wine making books to increase your winemaking knowledge.  The Joy of Home Winemaking is a great resource that has information for all levels of home winemakers, and covers many common and not so common problems that may arise.  The Home Winemaker's Companion is great for the beginning home winemaker, and includes instructions on how to make 100 different wines as well as a troubleshooting guide for problems that may come up on your quest to make easy homemade wine.
If you're more of a visual learner, easy homemade wine can be yours with the push of the play button!  The DVD: Home Wine Making in 7 Easy Steps is a fantastic resource for the beginner wine maker, and covers basically the same topics that many of the winemaking books cover.  Only with the DVD, you can see what the experts are talking about and you can more easily visualize what you will be doing with your own home winemaking practice.  The DVD Wine Making Video is another great resource for the visual learner, and is also aimed for beginner winemakers and helping you make easy homemade wine.
Starting off your winemaking practice with a home winemaking kit is probably the simplest way to jump into making easy homemade wine.  Everything you need in terms of wine making equipment and instructions are all packaged together nicely in the winemaking kit, and is one of the best ways to ease into making easy homemade wine.  Once you get more comfortable in your own home winemaking practice, you can start expanding by purchasing individual pieces of home winemaking equipment, but for the beginning winemaker, everything you need to make easy homemade wine is right there in one simple kit!
What if you run into trouble and can't figure out what to do next even after reading all your shiny new wine making books and/or wine kit instructions?  Well, the fact that you're reading this blog means you already know one way to tackle these seemingly unsolvable problems and that is to ask ! The team here at Adventures in Homebrewing trys hard to provide you with endless information on the website and blog related to making your own wine.  Making easy homemade wine shouldn't be just a pipe dream, and with the right tools and support, you can be successful in your own home winemaking practice!
———————————————————————————————————
Ed Kraus is a 3rd generation home brewer/winemaker and has been an owner of E. C. Kraus since 1999. He has been helping individuals make better wine and beer for over 25 years.