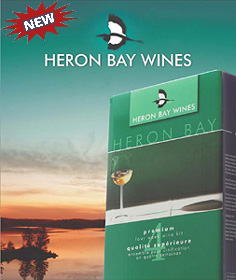 Exciting news! We now have available Heron Bay homemade wine kits!
We have added Heron Bay grape concentrates to our–already extensive–list of wine ingredient kits. Heron Bay is a leading provider of grape juice for wine making. Their products have been providing home winemakers like yourself with excellent homemade grape wine for many, many years.
There are 39 different varieties to choose from spread across two different Heron Bay lines: their Premium 8 liter kits and their Ultra Premium 16 liter kits.
Each of these homemade wine kits will make 6 gallons (30 bottles) of wine. They include the grape juice for wine making along with all the additional ingredients you will need such as yeast, clarifiers, stabilizers, etc.
Each of these homemade wine kits also come with detailed instructions that lead you through the entire wine making process. They show you how to make your own wine.
We are expecting the arrival of our first shipment either today or tomorrow, however you can go ahead and place your order right now on our website or by phone (800) 353-1906. We will ship your Heron Bay kits once the product arrives in our warehouse.
Also remember that you will always receive Free Shipping on these products, and when you order two or more wine making juices, regardless of the brand, you will also receive a 10% discount on all of them.
———————————————————————————————————
Ed Kraus is a 3rd generation home brewer/winemaker and has been an owner of E. C. Kraus since 1999. He has been helping individuals make better wine and beer for over 25 years.