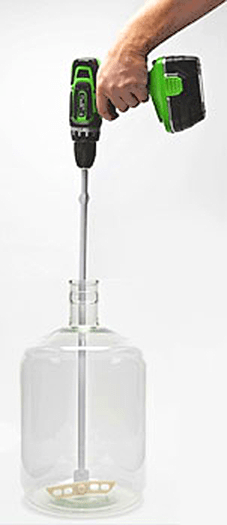 Thank you so much for all the information–it has been a lifesaver at times! My question is on degassing wine with a drill Mix-Stir in the carboy. How fast should I be using it with my drill? It seems like I just keep making more and more foam if I speed it up and I don't know if that's a good thing or not. It also takes forever. Should I slow the drill down? And when should I stop-is it okay to have just a few bubbles left? Thanks so much from a "Newbie", and keep up the good work.
Name: Eileen M.
State: Florida
—–
Hello Eileen,
When degassing wine the a drill mixer, you want to run the drill as fast a possible. The only thing that should be slowing you down is the foam that is wanting to come up and out of the wine. Like pouring a glass of hot soda pop over ice, this may require a little patience on your part. But other than that go as fast as you can. No reason to keep things slow. Degassing the wine quickly will not hurt the wine in any way.
Having said this, the one thing you definitely do not want to do when degassing with a drill is splash the wine. Splashing is different than mixing the wine. When the Degassing/Mixing Paddle is submerged into the wine it is only agitating the wine within itself. When you are splashing the wine you are disrupting the surface of the wine.
Splashing the wine can allow air to saturate into the wine. This would be a bad thing since air in the wine will promote wine oxidation. Splashing is not so much an issue when you are first starting the degassing process because so much CO2 gas is coming off the wine that air can not saturate. But it does become a consideration as you finish up degassing the wine with a drill mixer.
As to your question about how long you should be degassing the wine or how far you should go, you want to get it to a point where there is only a small amount of foam being produce. Don't worry about getting all the gas, just get to a point where it's relatively hard to make foam. If a remnant amount of CO2 gas is still in the wine, that's okay. This amount will have opportunities to leave during racking and bottling.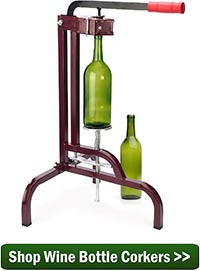 Just realize that degassing wine with a drill mixer is a safe and efficient way to go about it. Just get the paddles in the wine before spinning it, and you'll have no issues whatsoever.
Happy Winemaking,
Ed Kraus
—–
Ed Kraus is a 3rd generation home brewer/winemaker and has been an owner of E. C. Kraus since 1999. He has been helping individuals make better wine and beer for over 25 years.