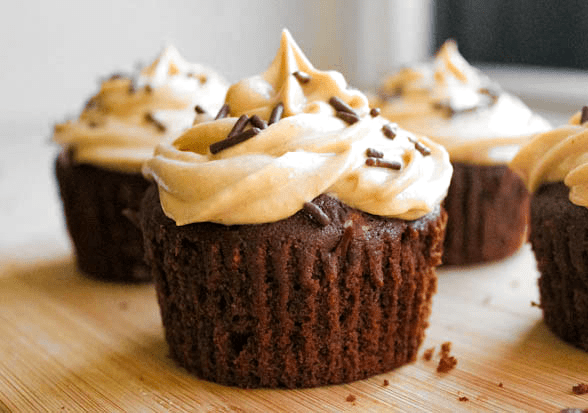 There are lots of culinary uses for beer: marinades, soups, sauces, baking, cocktails. Cooking with beer is just one more way to bring creativity into your homebrewing hobby. A few years ago, I discovered a recipe for some the most decadent cupcakes I've ever had – and they just happened to be made with beer!
For this recipe, most any dark beer will work, though I'd avoid anything with an excessive amount of hops, since the bitterness can come through in the food. For example, I wouldn't try this with a black IPA, but a milk chocolate stout, a coffee stout, or even Guinness would work great. Another fun commercial beer option is Terrapin's Moo-Hoo Chocolate Milk Stout.
The recipe below comes from the Food Network, but I've made a couple changes. In particular, I reduced the powdered sugar in the icing from 1 lb. to 3/4 lb. Don't worry – these cupcakes are still plenty sweet!
Recipe: Chocolate Stout Cupcakes
For the cupcakes:
3/4 cup unsweetened cocoa (reserve a couple tablespoons for dusting the finished cupcakes)
2 cups sugar
2 cups all-purpose flour
1 tsp. baking soda
Pinch of fine sea salt
12 oz. homebrew beer (milk chocolate stout is amazing!)
1 stick butter, melted
1 tbsp. vanilla extract
3 large eggs
3/4 cup sour cream
For the icing:
1 (8 oz.) package cream cheese, at room temperature
3/4 to 1 cup heavy cream
3/4 lb. powdered sugar
To make the cupcakes:

Preheat oven to 350˚F.
In a large mixing bowl, mix together the dry ingredients: cocoa, sugar, flour, baking soda, and salt.
In another mixing bowl, combine the beer, melted butter, and vanilla.
One at time, beat the eggs into the liquid ingredients, then mix in the sour cream until thoroughly combined.
Gradually mix the dry ingredients into the wet mixture.
Lightly grease 24 muffin tins. Divide the batter equally between the muffin tins, filling each 3/4 full.
Bake for about 25 minutes, rotating the pan halfway through. Remove from the over when the cupcakes are risen, nicely domed, and set in the middle but still soft and tender. Cool before removing the cupcakes from the pan.
To make the icing:
* The icing can be made in advance and kept covered in the refrigerator.
In a medium bowl, beat the cream cheese on medium speed until light and fluffy.
Slowly beat in the heavy cream.
Gradually mix in the powdered sugar until incorporated and smooth.
Cover with plastic wrap and refrigerate until ready to use.
To serve, top each cupcake with frosting and dust with cocoa. If you're feeling extra naughty, serve with a glass of your homebrewed stout!
Do you ever cook with your homebrew? What do you like to make?
———————————–
David Ackley is a beer writer, brewer, and self-described "craft beer crusader." He holds a General Certificate in Brewing from the Institute of Brewing and Distilling and is founder and editor of the Local Beer Blog.