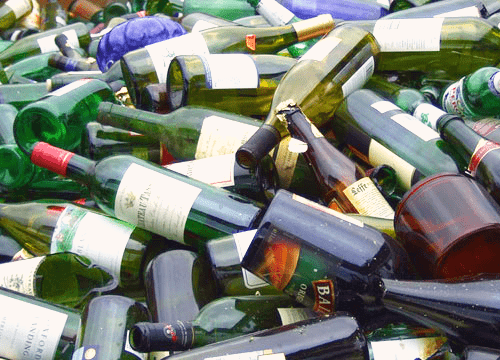 I'm just starting in wine making and my first batch, one gallon of strawberry wine is about ready to be bottled. I have wine bottles from a local hotel/convention center. A friend told me to get Iodophor to sterilize them, but I'm not sure what that is. Can you tell me what I should do to clean these bottles?
Thank You
Jerry R.
——–
Hello Jerry,
Whether you need to clean 5 or 6 wine bottles or 50 or 60 bottles, the process of cleaning and sanitizing the used wine bottles is the same.
Getting the labels off the used wine bottles will be the first job at hand. I have found that there are two types of glues used to put labels on wine bottles: the kind that allows the labels to fall off with a little soaking in water, and the kind that requires a lot of scrubbing, regardless of how long you soak them.
Since you only need five or six bottles, I would take a dozen or so at random. Put them in a soapy bath. You can use a plastic fermenter or something similar. Let them sit over night, and see which labels fall off. Hopefully, you'll have at least five. If none of the labels fall off the used wine bottles, this will reduce you to having to scrape them of with a utility razor.
Once you get the wine bottle labels off you will need to get the used wine bottles soapy clean, both inside and out. Cleaning the used wine bottles means all the grit and grime needs to be removed.
Regular dish soap works fine for this purpose. You will need a wine bottle brush to scrub the inside and get any dried, leftover wine removed. Our Brass Bottle Washer is also handy for blasting out the inside of the wine bottle with water. It also makes rinsing the soap from the inside of the bottle much easier and quicker.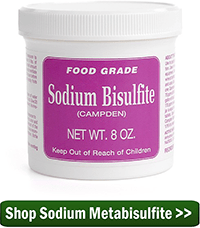 Now the used wine bottles are clean, but clean isn't good enough for bottling wine. They need to sanitized. Your friend's idea of using Iodophor is not a bad idea and will work for this process, however most winemakers prefer to use sodium metabisulfite for sanitizing their used wine bottles.
There should be directions that come with the sodium metabisulfite, but essentially all you do is mix in 1 teaspoon for each gallon of water.  You don't want to put the wine bottles in the solution, but rather, just put an inch or two of the solution in each wine bottle and let them stand for 20 or 30 minutes. The sulfur fumes from the sodium metabisulfite will sanitize the insides without any effort on your part.
Cleaning and sanitizing used wine bottles can seem like a chore the first time you do it, but what I and most others have eventually discovered is that once you have your own system down, its really not that difficult.
I hope this helps you out.
Best Wishes,
Ed Kraus
———————————–
Ed Kraus is a 3rd generation home brewer/winemaker and has been an owner of E. C. Kraus since 1999. He has been helping individuals make better wine and beer for over 25 years.