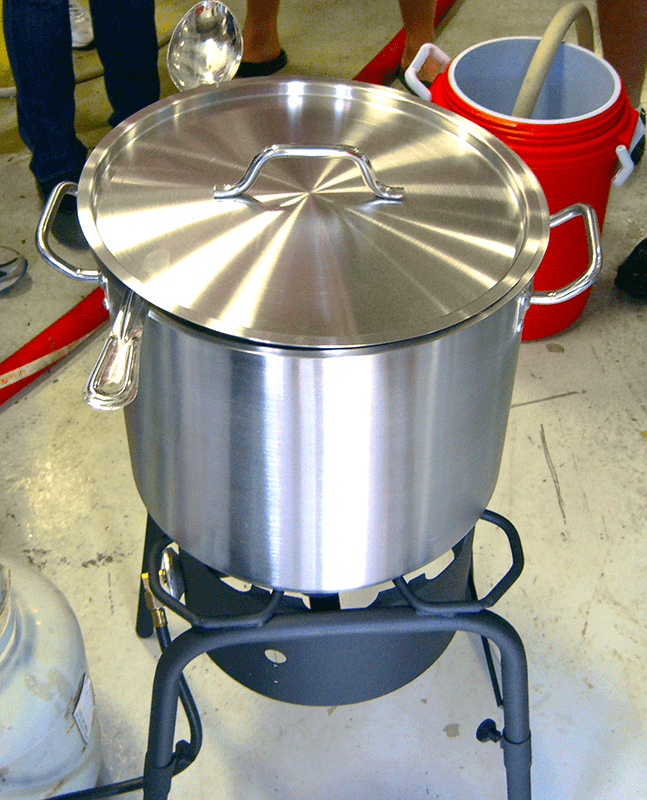 You've just purchased a new brew kettle for homebrewing and can't wait to fire it up. But brewing right away with that new brew kettle may cause some issues with your beer. Before you make the first batch with your new gear, consider this two-step cleaning regimen to prepare your kettle for brewing.
1. Cleaning A New Brew Kettle.
A new brew kettle that just arrived on your doorstep needs to be thoroughly cleaned. Who knows where it's been before you received it. If it was recently fabricated, there may be some machine oil residue on the kettle. A regular brewing grade cleaner will work well in most cases, but in a rare situation with stubborn residue, your standard kitchen dish soap may be needed. (Note: This is the only time I'll recommend using dish soap on your brewing gear. The soap can harm the head retention properties of your beer.)
Wash your new brew kettle well. Rinse your kettle very well. Boil some water in the kettle for several minutes, and do a smell/taste test or the water to make sure it comes out clean without any oily or metallic tastes or aromas. Cleaning a new brew kettle is important to having a great-tasting, maiden-batch of homebrew.
2. Passivating A New Brew Kettle.
What? Never heard of passivating a brew kettle? Unfortunately, I didn't know either until I experienced some strange off-flavors in a couple beers I brewed with a new stainless steel brew kettle.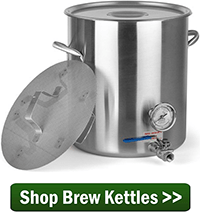 Passivation is a chemical process that forms a protective layer around the inside of the brew kettle. Stainless steel is primarily made of iron, and passivation is what makes the metal stainless. Iron, interestingly enough, can cause off-flavors, as well as contribute to haze. Passivating a new brew kettle is very necessary for brewing good homebrew beer.
If when you boil water (or beer) in your brew kettle and allow it to dry it out, then see black spots or rainbows, your kettle needs to be passivated. Luckily, this is a fairly straightforward process.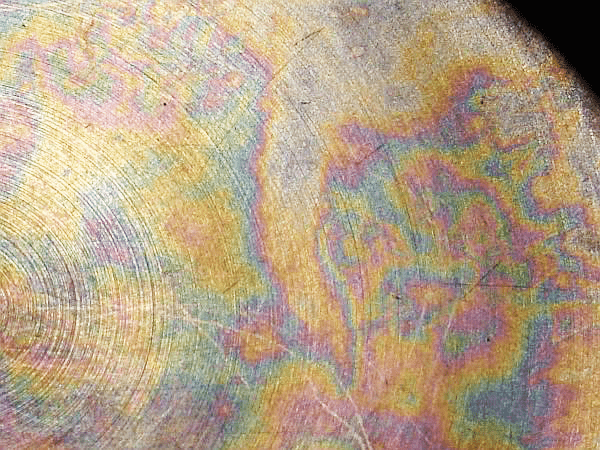 First, you need an acid. Star San is an acid anionic cleaner that's great for stainless steel. The acid reacts with the metal to form the protective layer inside the brew kettle. Simply sprinkle the Barkeeper's Friend into the kettle with just enough water to make a thin paste. Spread it around the kettle with a washcloth. After several minutes, rinse the brew kettle very well, and wipe dry with a towel. If the towel comes out clean, you're in good shape. Allow the new brew kettle to air dry for a few days. The combination of the acid treatment and the air will continue to passivate the kettle.
Just remember, cleaning your new brew kettle and then passivating it are key treatments. Do these two things, and your kettle will reward you with many fine batches of homebrew!
—–
David Ackley is a beer writer, brewer, and self-described "craft beer crusader." He holds a General Certificate in Brewing from the Institute of Brewing and Distilling and is founder of the Local Beer Blog.