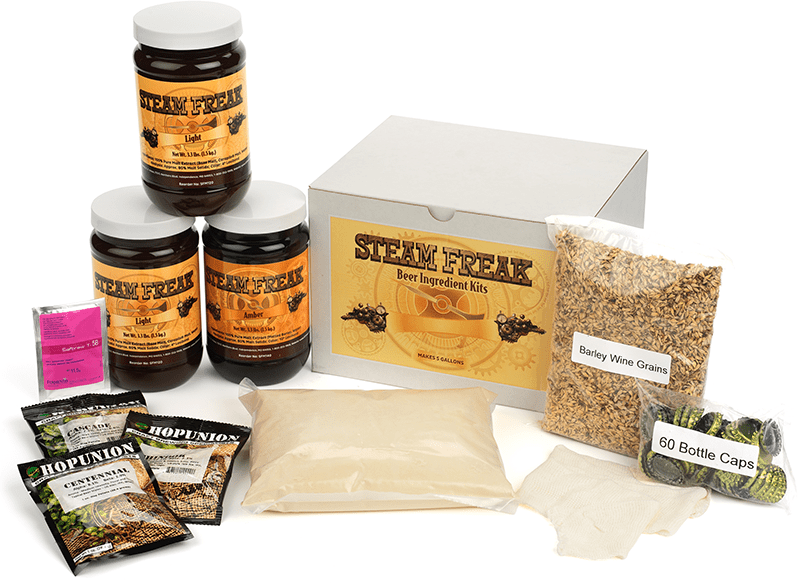 As the weather gets warmer, many homebrewers turn towards beers that are relatively light and refreshing – Russian Imperial Stouts are a bit heavy this time of year. Here are ten suggestions from our catalog of beer recipe kits that are perfect for warm weather homebrewing. Each recipe kit comes with all of the ingredients you need for a five gallon batch: fermentables, hops, yeast – even bottle caps!
(Remember – order any two or more beer recipe kits and save 10% on each one! Plus, as always, get free shipping on orders over $50!)
American Ales
American Amber – Ambers tend to be a little sweeter than pale ales, but still have a decent amount of hops. This beer kit uses all amber malt extract plus a pound of Caramel 80°L malt for added color and flavor. Expect a well balanced beer at about 40 IBUs and 5% ABV.
American Light – Need a "lawnmower beer" for post-yard work refreshment? A bit of corn sugar and rice syrup lighten the body on this one. For an even smoother beer, try lagering it by doing a secondary fermentation at colder temps than usual (40°-50°F). IBUs 13-16, ABV 4-4.5%
Pacific NW Pale Ale – A "West Coast" style pale ale that uses Centennial hops for bittering, and Cascade for flavor and aroma – the classic combination for American Pale Ales.
Double IPA – Out of these 10 beer recipe kits this is the one for the hop heads! Despite its high gravity (OG: approx. 1.070), this is a very straightforward beer recipe that's easy to brew. With and IBU approaching 100 and alcohol approaching 7%, you'll want to savor every sip!
Rye Pale Ale – A unique combination of specialty grains will make this a fun one. This is a pale ale with a twist — flaked rye lends a spicy character, balanced by honey malt, Munich malt, and hops. Practice both partial mash and dry hopping!
German Ales
Kölsch – A Kölsch is an ale from Cologne, Germany. It's very light in color and moderately hopped, making it comparable to a Pilsener. 25-28 IBUs, about 4.5% ABV
Weizenbier – A Weizen is a Bavarian style wheat beer featuring banana/clove character from the yeast and low hops bitterness. I'd recommend upgrading to the Weihenstephan Weizen Yeast from Wyeast. It's the same strain of yeast used by the Weihenstephan brewery in Germany, where they've been making beer for nearly a thousand years!
Lagers
These lager beer recipe kits will require more control over fermentation temperature than the ales. Fermentation should take place around 40° or 50°F, which for most people means a dedicated beer fridge. Also keep in mind that fermentation usually takes longer for lagers.
Munich Helles – "Helles" means "light" in German. This Munich lager is just a little lighter in color and a touch lower in IBUs than the Vienna Lager above.
German Pilsner – If you're looking for something with a little body and still crisp you might take a look at this beer recipe kit. German Pilsners are known for their brilliant golden color and assertive bitterness that is accentuated by its dry finish.
You've got some choices ahead of you…what will you brew this summer? If these 10 don't excite you then take a look at the other 70 or so beer recipe kits we offer!
—–
David Ackley is a beer writer, brewer, and self-described "craft beer crusader." He holds a General Certificate in Brewing from the Institute of Brewing and Distilling and is founder of the Local Beer Blog.