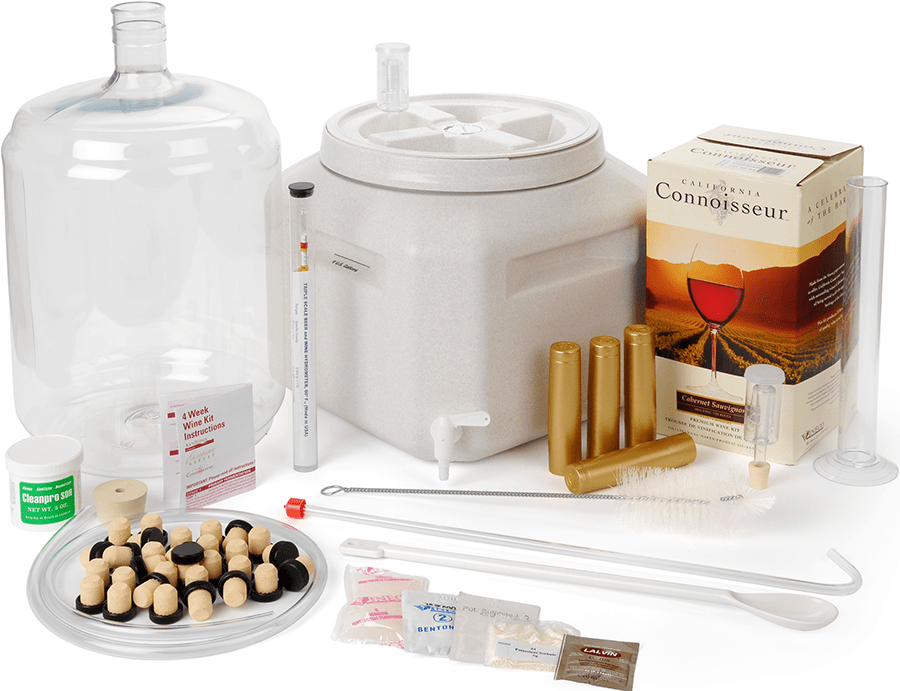 If you want to jump right into making wine without using a pre-made wine making kit, it can be done just fine. But there are certain pieces of fermentation equipment that you should have. With that in mind I've put together a basic wine making equipment list for beginners.
Primary & Secondary Fermenters/Carboys:  These can be made of plastic or glass, with both having pros and cons to using either one, and are used for the fermentation of your wine. A primary fermenter is used for the first 5 to 7 days of fermentation. The secondary fermenter is used to finish the fermentation.
Air Lock & Rubber Stopper:  The rubber stopper is used to attach the air-lock to the top of the secondary fermenter. The rubber stopper has a hole in the center to which the air lock is placed. The air-lock allows gases to escape from the secondary fermentation without allowing: air, bugs, mold, bacteria and other little nasties from getting in.
Spoon: You need a long stirring spoon so that you can reach in the fermenters and stir the wine.  May not seem all that important now, but once you get in the middle of making your wine having a long-handled spoon will be one piece of wine making equipment you'll be glad you got. Stirring allows you to mix the wine making ingredients and break up any pulp that may rise to the top during the primary fermentation.
Siphon Hose and Racking Cane:  These are pieces of equipment that are needed for the transfer of your wine from one fermentation vessel to another, and also from carboy to bottle.  The siphon hose ensures a smooth transfer from one vessel to the next, while the racking cane allows you to point where you are drawing the wine from.
Wine Thief:  The wine thief is great for taking small samples of wine out of your fermenter in order to test for various things like pH, specific gravity, or to just give the wine a little taste! If your fermenters happen to have a spigot on them, this will be one of wine making equipment you can scratch off your list. Just take your samples for testing from the spigot.
Wine Hydrometer:  Once you take a sample of wine out from the fermentation, you can test the specific gravity of the wine in order to determine if the fermentation is complete, or if you need to make a few adjustments before moving on.  The wine hydrometer will help you measure specific gravity with ease, and is a piece of equipment you really can't go without.
Acid Test Kit:  Using a sample of wine, you can test its acid level with an acid test kit to determine if it's where you want it to be, or if you need to make a few adjustments. Wines too high in acid taste sharp or tart. Wines too low in acid taste flat and insipid. If you have a reliable wine recipe you are following or are making wine from a wine ingredient kit this may not be necessary, but otherwise, you should absolutely have this on your wine making equipment list.
Wine Bottles and Corks:  You'll need lots of clean wine bottles and wine bottle corks so you can put your finished wine into bottles and seal them for storage and later consumption! You can get by with using mushroom corks, but if you want to use a standard wine bottle cork you will need a wine bottle corker to press them into the wine bottle.
Cleaners/Sanitizers:  Keeping your wine making equipment free of contaminants is important. Residual amounts of mold or bacteria can potentially grow and spoil a wine. This is why you should sanitize any equipment that come into contact with the wine. Cleaners such as Basic A work will for this purpose.
There are plenty of pieces of home winemaking equipment that we didn't mention that could also help you in your craft, though acquiring what's on the list above will allow you to get off on the right foot and create a fantastic homemade wine!