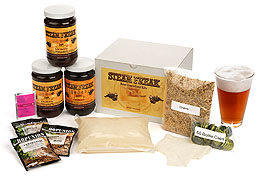 This summer we've been working hard to develop our own, in-house line of malt extracts and homebrew recipe kits. These products are of the same high quality that we've always been proud to offer, backed by a commitment to excellent customer service, and, as always, free shipping on orders over $50. If you've been on the fence about home brewing, the time has come to get on board with one of the most rewarding hobbies there is.
And without any further ado, announcing the Steam Freak lineup!
Steam Freak Liquid Malt Extracts (LME)
Each of our liquid malt extracts contain 3.3 pounds of fresh, pure, unhopped malt extract produced right here in the USA. One or two jars are enough to form the basic building blocks of any style of beer. Alternatively, add a jar to boost the gravity of any beer recipe. Mix in some specialty grains and hops to let your creativity fly!

Steam Freak Home Beer Making Kits
Create some of your favorite beer styles with our all-in-one Steam Freak beer making recipe kits! Each kit contains all of the home brewing ingredients needed to make a five-gallon batch of homebrew, including:
Steam Freak liquid malt extract
Specialty grains
Steeping bag for grains
Hops
Yeast
Bottle caps (crowns)
Priming Sugar
All you will need is water, a stovetop burner, and a Homebrewing Equipment Kit to start making some of the best beer you've ever tasted!
Currently there are 25 beer recipe kits from which to choose, but be on the lookout for more:
Questions? Please feel free to contact us with any questions you may have.
————————————————————————————————
David Ackley is a beer writer, brewer, and self-described "craft beer crusader." He holds a General Certificate in Brewing from the Institute of Brewing and Distilling and is founder of the Local Beer Blog.