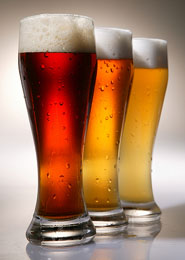 In celebration of the fun, social hobby that is homebrewing, the American Homebrewers Association (AHA) schedules a Big Brew event every year in conjunction with National Homebrew Day. It's an event in which homebrewers around the world brew the same beers at the same time and celebrate the joy of homebrewing. This year, the Big Brew takes place on Saturday, May 4th, with a world-wide, simultaneous toast happening at noon CDT. Last year, over 7,000 homebrewers around the world brewed more than 11,000 gallons of beer!
Sounds like fun, right? Read on to learn how you can participate!
You can join in the AHA's Big Brew in one of the following ways:
Join a registered Big Brew event near you. Meet new people, make some friends, and celebrate one of America's favorite, fastest growing hobbies.
Register your own Big Brew event. Can't find a Big Brew event near you? Organize your own and register it with the AHA! Coordinate with your local homebrew supply shop and area homebrewers to make the event a good one!
Invite some friends and family over for a brew day! Share your passion for homebrewing with those closest to you!
Don't forget to raise your glass at 12pm CDT for the worldwide toast to homebrewing!
Homebrewing is one of the greatest social activities there is. Brewing with a friend makes the hobby immensely more enjoyable. Not only do you have an extra set of hands to help out, but brewing with a buddy or two is a great opportunity to share your homebrew, get some feedback, and wax philosophical over some beers!
Check out the AHA's How to Celebrate page for more ways to get involved in the 2013 Big Brew!
Big Brew Recipes
Part of the fun of the Big Brew is that homebrewers around the world all brew the same beer. This year, the AHA selected three winners from the Great American Beer Festival Pro-Am competition for the Big Brew. Click the links below for extract and all-grain recipes and visit the Adventures in Homebrewing web store to find the ingredients you need.
Each recipe is for a five-gallon batch of homebrew:
More Fun Blonde – a Belgian blonde ale by Jay Shambo and New Belgium Brewing Company. (Recipes: extract, all-grain)
Pointon's Proper – an English style dark mild ale, by Scott Pointon and RAM Restaurant & Brewery. (Recipes: extract, all-grain)
Are you new to homebrewing and in need some equipment for the Big Brew? Check out our Beermaker's Necessities Kit, containing all the equipment you need to brew a batch of beer. Each kit includes a Brewer's Best Extract Kit of your choice. Don't forget to check out our Guide to Extract Brewing for step-by-step instructions for the beginning homebrewer!
——————————————————————————————————-
David Ackley is a beer writer, brewer, and self-described "craft beer crusader." He holds a General Certificate in Brewing from the Institute of Brewing and Distilling and is founder of the Local Beer Blog.