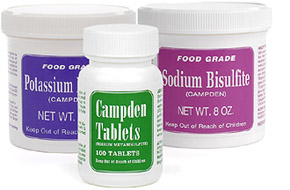 I have a quick question that I can't find the answer to. I'm hoping you can help me out. Which is better, campden tablets, sodium metabisulfite or potassium metabisulfite? I've looked in several places but don't understand why you need all 3 to make wine.
Shaun
—–
Hello Shaun,
Thanks for the great question. This is an issue that perplexes many wine making hobbyist, so I'm glad you brought it up. To answer it, I have put together a simple guide to metabisulfites below.
The first thing to understand is that all three of these wine making ingredients do the same thing: Campden tablets, sodium metabisulfite and potassium metabisulfite, they all add sulfites to a solution. Whether it be wine or water the result is the same. Regardless of which of the three you use, the result is the same. Sulfites are being added to the liquid.
So what's the difference? Honestly, not much. The main difference between sodium metabisulfite and potassium metabisulfite is that one will leave residual amounts of sodium in the wine and the other will leave some potassium.
Many home winemakers will lean towards using potassium metabisulfite instead of sodium metabisulfite in their wines as a means of avoiding more sodium intake in their diet. But in reality, this is somewhat futile.
If the normal recommended dose of sodium metabisulfite is used—1/16 teaspoon per gallon—the residual sodium being added is equivalent to one slice of pickle per case of wine. Not enough to affect the flavor and certainly not enough to affect your diet.
Potassium metabisulfite is slightly stronger than sodium metabisulfite by volume—17% stronger—but this is not enough to be taken into account if you are only making 5 or 10 gallons of wine at a time. With either we recommend the same dosage.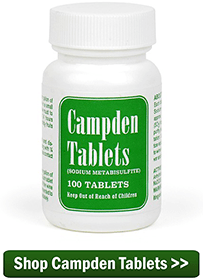 Now that we have cleared that up, what makes Campden tablets different from potassium and sodium metabisulfite? Again, not much. Campden tablets are nothing more than potassium metabisulfite in tablet form. The tablets are measured in a dose for one gallon of wine. You simply use one tablet per gallon.
So in the case of tablets, it's a matter of convenience. If a home winemaker is only making a gallon or two of wine at a time, they may want to use Campden tablets instead of having to measure out a 1/16 teaspoon dose for each gallon. They are just a way to keep things simple.
As to your question as to which one is best to use, in reality, it just doesn't matter. I say, 'pick one and go with it'. Many home wine makers will use sodium metabisulfite for sanitizing their equipment and wine bottles and then use the potassium metabisulfite to go directly into the wine for preservation. But in reality, if you don't want to buy both… not a big deal.
Happy Wine Making,
Ed Kraus
—–
Ed Kraus is a 3rd generation home brewer/winemaker and has been an owner of E. C. Kraus since 1999. He has been helping individuals make better wine and beer for over 25 years.