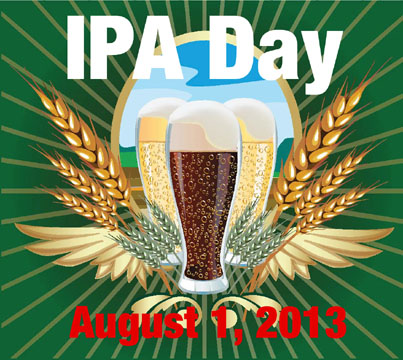 IPA Day is August 1st, a celebration of hops and quite possibly America's favorite craft beer style.
As many hopheads have heard, India Pale Ales were invented during the colonial days of the British Empire. In order for the beer to survive the journey to their troops in India, British brewers would add extra hops, a natural preservative, and increase the alcohol content. Americans, as we always like to do things bigger and better, have added our own American ingredients and adopted the style as our own. It's not uncommon to see "Imperial" and "Double" IPAs, amped up versions of the original, as well as "Belgian", "white", and "farmhouse" IPAs on the shelves.
Here are five ways to celebrate the big, bold flavors of the India Pale Ale:
Host an IPA Day Beer Tasting
Collect a swath of your favorite local, regional, and homebrewed IPAs for an epic beer tasting. Create bracket to decide who wins the "Top of the Hops." Dig cheese? Try your IPAs alongside a lineup of gorgonzola, blue, and other funky cheeses.
Brew an IPA
Make your own IPA at home and celebrate for weeks to come. We have several kits to choose from:
Brewers Best: India Pale Ale
Brewers Best Bold Series: Belgian India Pale Ale
Brewers Best Bold Series: Double IPA
Brewcraft Premium Series: New Zealand IPA
Brewcraft Ultimate Series: Oak Barrel Imperial IPA
Brewcraft Ultimate Series: Dry Hopped West Coast IPA
Muntons Connoisseur Kit: India Pale Ale Why not brew more than one to compare them against each other? (Don't forget that we have free shipping on all orders over $50!)Also, feel free to create your own recipe using our Simple Style Guide: How to Brew an American IPA.
Cook with an IPA
Throw some India Pale Ale into some of your favorite recipes. The beer's rich, malty sweetness and strong hop notes will add layers of complexity to any dish. Here are just a few recipes to provide a little inspiration:Jalapeno IPA Hummus
Hawaiian IPA Pineapple Pulled Pork Sliders
Roasted Garlic IPA Mashed Potatoes
Hophead IPA Peanut Brittle Make them all for a four-course, IPA-infused feast!
Visit your local brewery
Take a trip out to your favorite local brewery to see what IPA they have on tap.
IPA Pub Crawl
Pick a few of your favorite craft beer bars and breweries and sample IPAs all along your route. Just remember, don't drink and drive!
Are you planning an IPA Day event? Register the event through CraftBeer.com so others beer enthusiasts can join in the fun as well.
Til next time…cheers!
—————————————————————————————————-
David Ackley is a beer writer, brewer, and self-described "craft beer crusader." He holds a General Certificate in Brewing from the IBD and is founder of the Local Beer Blog.