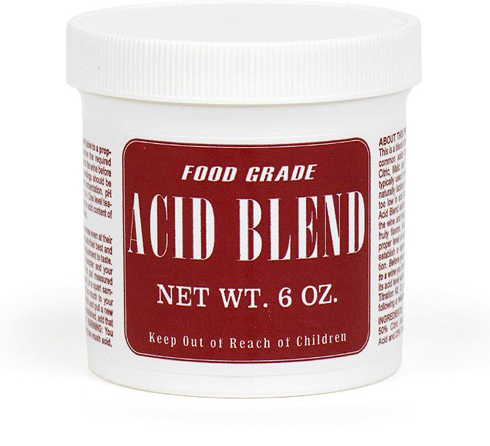 Acid Blend is a granulated blend of the three most commonly found fruit acids: citric acid, malic acid, and tartaric acid. It is added directly to a wine or must to raise its acidity level when necessary. The acidity of a wine is the tart or sharp taste. Wines that are too low in acid are flat or flabby tasting. Wines that are too high in acid are tart or sharp tasting.
Here are 5 helpful things you should know about Acid Blend.
Always Know How Much Acid Blend To Add:
Never guess at how much Acid Blend you should be using. Either have a wine recipe that tells you how much Acid Blend to add, or use and Acid Testing Kit to determine how much Acid Blend is needed to bring the wine into a respectable range.
One Teaspoon Of Acid Blend Will Raise One Gallon By .15%:


An Acid Testing Kit will measure acidity in terms of percentage by weight. With most wines you will want an acidity level in the .55% to .70% range. Once you know your wine's current acidity level

, you can use the .15%, per teaspoon, per gallon, rule to know how much Acid Blend you need to add.
Acid Blend Is Easy To Add But Very Difficult To Take Out:
If there is ever any question as to how much Acid Blend you should be adding, always error to the low side. You can easily add more later. It's effects are instant. But if you add too much, the process for getting it out is, quite frankly, a big pain.
The Acid Level Of A Wine Can Change During A Fermentation:
It's not unusual for some acid to drop out of the wine during a fermentation. Conversely, the fermentation can make acid to replace what is lost. With these two things in mind it is possible for the acidity level to slightly rise or fall during a fermentation. For this reason you may need to do a second adjustment to the wine just before bottling.
Wine Ingredient Kits Do Not Call For Acid Blend At All:
If you are using wine making juices in the form of box ingredient kits to make your wine, you do not need to add Acid Blend to your wine. You do not need to worry about taking acid level readings. This is because the producers of these kits have already tested and adjusted the acidity level for you. They have it corrected perfectly for the type of wine you are making.
—–
Ed Kraus is a 3rd generation home brewer/winemaker and has been an owner of E. C. Kraus since 1999. He has been helping individuals make better wine and beer for over 25 years.