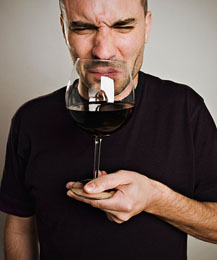 I took the stopper out of the carboy briefly to clean.  I noticed a vinegar smell!  Is the 6 gallons of wine junk?  Or should I sample to confirm?  Help!  Air lock may have gotten low !!!!!
Name: Danny V
State: WI
Hello Danny,
I guess my question to you is, does it really smell like actual "vinegar" or is it just an odd odor? I ask this because many times a person will smell something unusual in their newly fermented wine and immediately assume it to be vinegar.
In reality, a wine fermentation can put a lot of strange odors in a wine, but most of them are temporary and will leave during a siphoning (racking) of the wine or when sulfite is added to the wine. The SO2 gas from the sulfite will expel the odor.
With this knowledge at hand, if you still believe it to be vinegar, then sulfite such as sodium metabisulfite or Campden tablets, needs to be added to the wine, immediately. Vinegar is caused by a bacteria. The sulfite will kill the bacteria very easily. By doing this you can be assured that your wine will not become any worse.
As far as saving the wine or making it better, there's really no hope. Vinegar is essentially a volatile acid with an Unagreeable taste and smell. The only way to remove it would require to heat the wine. This would allow the volatile acid to leave as a vapor, but would destroy the wine in the process.
In the future, not only is it essential that you keep the air lock from going dry, but it is also essential that the wine be treated with sodium metabisulfite to handily destroy the vinegar bacteria. A dose should be added 24 hour before the wine yeast and again, right after the fermentation has complete. A third dose should be added right before bottling the wine, as well. By doing these simple steps, you should never have to deal with vinegar again.
I would also suggest you take a look at the article, There's Vinegar In My Wine!. This is an article on our website that goes into the subject matter in much greater detail. There you will learn more about what vinegar is, how to control it, and how to test for it in a wine.
Best Wishes,
Ed Kraus
———————————————————————————————————
Ed Kraus is a 3rd generation home brewer/winemaker and has been an owner of E. C. Kraus since 1999. He has been helping individuals make better wine and beer for over 25 years.