One of the tools you may find in a winemaker's arsenal is the steam juicer. A steam juicer allows the home winemaker to easily extract juice from various fruits with little effort. The steam juicer also eliminates the need for a grape crusher or dealing with grape presses. This makes it very economical as well.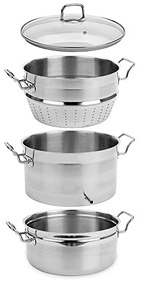 Some may be wondering, "what exactly is a steam juicer?" It can be best described as a double boiler. The steam juicer has three basic parts: a water pan on the bottom, a the juice collector in the middle (shaped like an angle food cake mold), and a perforated produce basket on top.
Water is heated in the pan of the steam juicer. Steam rises through the collector to the produce basket. The steam bursts the skins and extracts the juice. The juice then falls into the collector of the steam juicer and then out the hose.
Using a steam juicer is an effective way to extract juice from fruits like elderberries or plums which have a lot of pulp. The steam juicer breaks down the pulp and extracts the flavor from within the fruit's fiber making the juice very flavorful.
While the steam juicer has proven to be invaluable to the home winemaker, it is also used for canning, making jellies or just healthier living.
The steam juicer we offer is made of heavy-gauge stainless steel. You can learn more about it by visiting our website.
———————————————————————————————————
Ed Kraus is a 3rd generation home brewer/winemaker and has been an owner of E. C. Kraus since 1999. He has been helping individuals make better wine and beer for over 25 years.