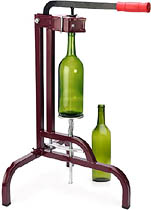 We've just added a new corker to our website, and it's one that we are very excited about. It's called the Winery-Grade Floor-Corker. Not only is it a quality corker, it's a corker that we're able to offer at a deceptively-low price of $69.95!
It's a floor-model style corker that stands 30 inches tall. What this means is that you are able to stand over it to gain greater leverage. Because it is so well designed and constructed, it can easily insert size #9 cork with very little effort — both natural wine cork stoppers and the denser synthetic corks.
It's fast and simple to use.  With the lever all the way up, just drop a cork into the chamber in the corker's head. Then place a wine bottle on the spring-loaded table.
As you push the lever down two things begin to happen at the same time:
The wine bottle table locks into place, securing the wine bottle against the bottom of corker's head.
The corker slowly starts to compress the cork with its jaws.
As the lever goes all the way down it smoothly plunges the compressed cork into the wine bottle.
This floor-corker is great for the home winemaker who needs more than a handle-held corker. It allows them to cork a good size batch without straining their hands. But this is also a great corker for bottling larger batches. It can cork wine bottles at a very brisk pace. And if you want to put it into overdrive, you can use it as a two-man unit: one person loads and unloads the wine bottle; the other person loads the cork and plunges the lever.
You can find our more about this Winery-Grade Floor-Corker on our website. We have plenty in stock. And remember, as an added boost to this already great value, we'll get it to your front door at no charge. Shipping is absolutely free!
———————————————————————————————————
Ed Kraus is a 3rd generation home brewer/winemaker and has been an owner of E. C. Kraus since 1999. He has been helping individuals make better wine and beer for over 25 years.