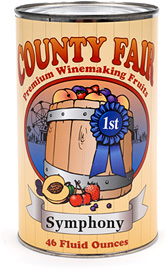 Hello Kraus,
My neighbor is trying to show me how to make white wine using your County Fair Symphony concentrate.  He told me that the wine will need to sit many months to age before it is ok to drink or bottle. I have read the homemade wine instructions on the side of the can and in the First Steps In Winemaking book that i got from you. I am still confused about why it has to sit so long before i can drink it.
Todd B.
———-
Dear Todd B.,
First, I would like to say that the Symphony grape makes an excellent wine. I'm sure you will be pleased with its outcome. Also, you are very lucky to have someone who can show you the ropes as it were, being a beginning wine maker and all.
Now, let me see if I can shed some light on the issue.
One of my favorite wine making tips is When In Doubt, Wait. What I mean to say by this is you can get into more trouble by rushing the wine making process along than you can by adding some extra time between the some steps.
Your friend has found through their own wine making experiences that you should wait several months before bottling. This is okay and will not hurt the wine in any way, and may potentially help the wine. But, it may not be necessary either, depending on the situation. Every wine is different in terms of aging need.
In my humble opinion in this situation, if the wine is bottled right after the fermentation has completed and the wine has had time to clear, it will be very drinkable at about 30 to 60 days. However, the wine should marginally improve on up until about 6 to 9 month.
What your friend may be doing (consciously or unconsciously) is trying to eliminate the temptation of drinking all the wine before it is at its best. If it's stowed away for a few months before it's bottled it will be out-of-mind and age just as well — if not better — while in bulk.
Best Wishes,
Customer Service at E. C. Kraus
———————————————————————————————————
Ed Kraus is a 3rd generation home brewer/winemaker and has been an owner of E. C. Kraus since 1999. He has been helping individuals make better wine and beer for over 25 years.