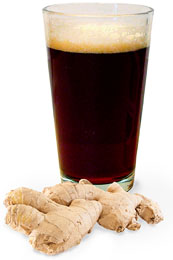 Before hops were a common ingredient, beer was flavored with all kinds of herbs, spices, vegetables, flowers, and roots. One such ingredient was ginger, the intensely flavored root frequently used in cooking Indian food and ginger bread cakes. In one of my favorite new brewing books, Sacred and Herbal Healing Beers, Stephen Buhner notes that ginger was used by the ancients for its medicinal properties that improve circulatory function, digestion, nausea, and a number of other ailments.
Ginger was also used when hops weren't readily available. Marty Nachel notes that "The original ginger ale really was Ale. The concoction was a standard beer in colonial America because the colonists used ginger and other spices in the absence of hops to offset the malty sweetness of beer." According to Sanborn Brown's Wines and Beers of Old New England, "There were times in the country's history before the introduction of lager beer when the commercial sale of ginger beer exceeded both hopped beer or cider."
Some American craft breweries are reviving the use of ginger in beer making. Hardywood Park Craft Brewery, in Richmond, VA, makes a Gingerbread Stout that scored 100 out of 100 points in Beer Advocate Magazine. Believe it or not, you can brew your own ginger ale. It's a great way to bring a little creativity and old-world tradition into the home brewery!
It's easy to brew your own ginger ale! I like to use a brown ale as a base, but you can technically do it with any base beer you'd like.
How to Brew a Ginger Ale
Start with a brown ale extract kit or your favorite brown ale recipe
Peel and chop or grate fresh ginger root. Charlie Papazian recommends between .25 – 1 oz. per gallon of beer. (I've gone as high as 2 oz. — this comes out very spicy!) Tip: When in doubt, start with less, and if it's not enough, you can always use more in a later batch.
Brew your brown ale as you would otherwise, adding the ginger to the last 15 minutes of the boil. Either put the ginger in a small straining bag, or…
As you transfer to the primary fermenter, strain the ginger out of the wort. You can pour the ginger into the primary fermenter if you'd like, but I recommend doing a secondary fermentation so you can separate the ginger from the wort prior to bottling day.
Continue with fermenting and packaging as you would normally.
When the beer is ready to drink, give it a taste. If the ginger is too strong, let it age a while to give the ginger a chance to balance out.
Have you tried brewing with ginger before? How did it turn out?
——————————————————————————————————-
David Ackley is a beer writer, brewer, and self-described "craft beer crusader." He holds a General Certificate in Brewing from the Institute of Brewing and Distilling and is founder of the Local Beer Blog.