Recently, many have been asking us which wine ingredient kits come with wine bottle labels and which do not. So I thought now would be as good of time as any to lay out all the detail about who-has-what when it comes to wine bottle labels.
Most of the wine ingredient kits come with designer wine bottle labels, but some do not. These wine bottle labels list the variety of wine along with some basic information like alcohol percentage by volume and so forth. They are all very attractive and professionally done. They'll make your wine bottles look like the real deal.
The following is a list of the brands that include, and do not include, wine bottle labels in their kits.
Yes, Wine Labels Included: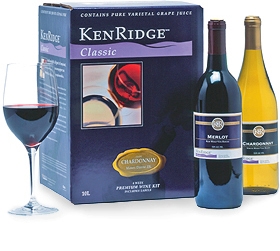 KenRidge Classic (23 varieties)
Cheeky Monkey (13 varieties)
Legacy Premium Blends (22 varieties)
KenRidge Showcase (21 varieties)
Vinterra Pure Juice (10 varieties)
KenRidge Founder's Series (14 varieties)
No, Wine Labels Are Not Include:
California Connoisseur (29 varieties)
European Select (18 varieties)
Niagara Mist (12 varieties)
Heron Bay Premium (24 varieties)
Heron Bay Ultra Premium (15 varieties)
If the wine making kit that you'd like to purchase does not include wine bottle labels, please remember that we do have wine labels that you can purchase separately.
These labels come with various designs that you can choose from. They can also be ran through a computer printer so you can customize them with your personal information.
———————————————————————————————————
Ed Kraus is a 3rd generation home brewer/winemaker and has been an owner of E. C. Kraus since 1999. He has been helping individuals make better wine and beer for over 25 years.