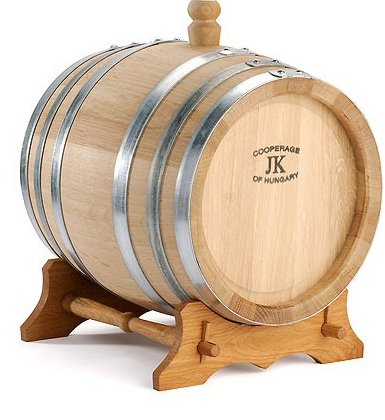 My son gave me a 5 gallon oak wine barrel as a gift. I have a batch of red wine that I would like to put in the oak barrel and let it age a bit. When do I put the wine in the barrel? Do I let the wine finish up and clear with bentonite first and then put it in the barrel or should it go into the barrel now, let it age for a period of time then finish and bottle it?
Thanks,
David
—–
Dear David,
Thanks for the great question, and way to go son! An oak wine barrel is really one of the better wine making gifts you can receive as a home wine maker. A lot of people underestimate how valuable the effects of oak aging can be to a wine.
The most common time for a wine to be in barrels is after the fermentation has completed, and the yeast has had time to settle out. That is also when I would recommend you put your wine in the barrel. That being said, the direct answer to your question is: add the bentonite first; let the wine clear; then go to the oak wine barrel.
One thing you have do have to be concerned when aging a wine in a barrel is how long to keep the wine in the barrel. A vast majority of the wineries will barrel-age anywhere from 18 to 30 months. This is perfectly reasonable if using 50 gallons oak barrels, but when using smaller oak barrels, the length of time needs to be much less.
A 5 gallon wine barrel holds only 10% of what a 50 gallon wine barrel can hold, yet the surface contact between the wood and the wine is still about half that of a 50 gallon barrel. What this translates into is: smaller wine barrels will affect the wine much more quickly than larger wine barrels. In the case of 5 gallons versus 50, about 5 times faster.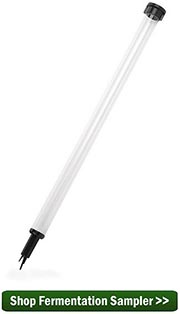 Because of this, it is easy to over oak the wine when aging in small barrels, especially if you are used to aging in glass jugs. With glass jugs aging too long is hard to do, more forgiving, but with small barrels you can potentially ruin the wine with too much wood.
This is why I always urge anyone aging in smaller barrels to monitor their wine's flavor progression closely. At least once a month, taste a sample so that the barrel aging effects does not become too much. This can be easily done with a wine thief.
In summary, after you have cleared out the wine yeast is when to put your wine in the barrel, and monitor your wine's flavor closely, at least monthly. Make sure that the wine does not become to woody or overcome by the effects of the barrel.
Happy Wine Making,
Ed Kraus
—–
Ed Kraus is a 3rd generation home brewer/winemaker and has been an owner of E. C. Kraus since 1999. He has been helping individuals make better wine and beer for over 25 years.