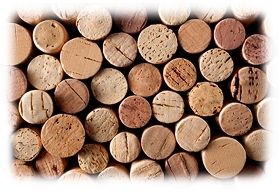 Hi,
I ordered a starter kit and some other cool stuff from you, and will be ready to bottle my first batch of wine soon. I would rather use regular corks instead of the plastic top corks in the kit. I have a hodge podge of scavenged wine bottles to use in the 750ml range (or what ever the regular wine bottle is). What size corks would you recommend for this? I didn't know there were so many different sizes to choose from, and what are the different lengths for?
Thanks,
Paul K.
———-
Dear Paul,
I understand you not wanting to use the Mushroom Corks that are included in the starter kit, particularly if you are planning on giving some of the bottles out as personalized wine gifts. Having a said this, please understand that the Mushroom Corks will seal the wine bottles very well and are appropriate for storing and aging wines for a period of about 12 to 24 months.
To answer your questions, if your wine bottles are standard 750ml and they have a cork finish opening –not screw cap– then the opening should be 3/4 inch. Wineries use a size number 9 cork for this size opening. The 9 refers to the diameter of the cork.
This size cork can not be put in by hand. It is much fatter than the opening of the wine bottle. You'll have to get a piece of homemade wine equipment called a corker or cork inserter. The corker compresses the cork stopper, then plunges it into the bottle's opening.
When you buy corks not only do you have a choice of diameter, but you also have a choice of length and grade (density). You may be asking yourself, what's the difference? The difference is in how much the cork breaths or allows air to permeate through or past it. Longer corks allow less air into the bottle than short corks; dense corks allow less air into the bottle then not-so-dense corks.
Wine needs air to age properly, but too much and the life of the bottle will become to short. Too little air and the wine takes too long to reach its aging potential. In short, you should buy corks that will match the rate of your consumption.
Having said all of this, most people buy either the #9 Superior Grade or the #9 Extra-First Grade (short). If you have a wine that you would like to age for many years, I would suggest getting the Synthetic Corks for the tightest seal.
Happy Wine Making,
Customer Service at E. C. Kraus
———————————————————————————————————
Ed Kraus is a 3rd generation home brewer/winemaker and has been an owner of E. C. Kraus since 1999. He has been helping individuals make better wine and beer for over 25 years.