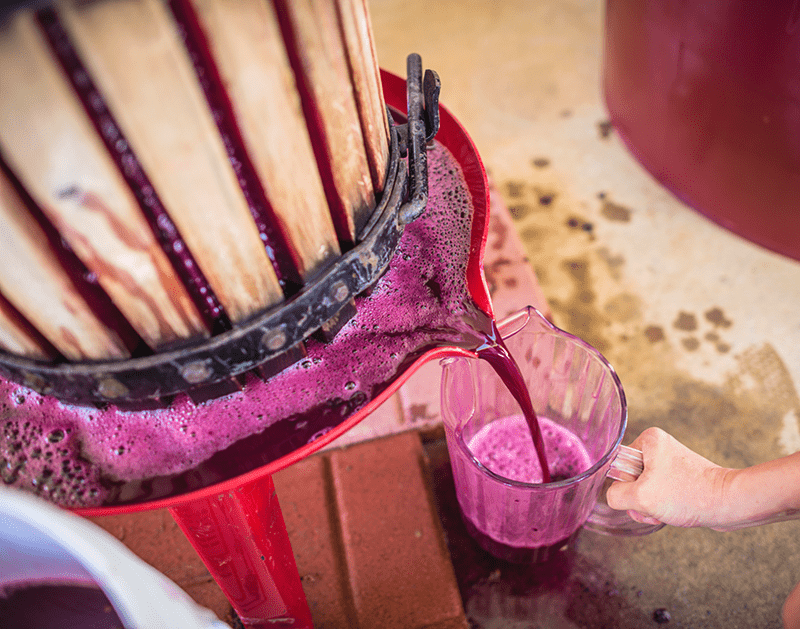 Here are five tips for using a wine press. This are basic tips that will help you get the most out of your press. Learning how to make wine using a wine press is very straight-forward. Even so, this tips should help you avoid the pitfalls we see most often.
You Can Press More Than Just Grapes With A Wine Press:
While wine presses are sold with the intent of being used for making grape wine, they work perfectly fine for pressing other fruits. Everything from tiny elderberries on up to apples can be pressed with a wine press.
Before Using A Wine Press, All Fruits Must Be Crushed:
While you can press a variety of fruits with a wine press, it is important that the fruit be crushed beforehand. This is true whether you are pressing grapes, blueberries or pears. Depending on the amount of fruit you are dealing with: you can crush the fruit by hand; you can use a blunt object such as the butt end of a 2X4; or you can get an actual grape crusher to do the work for you.
Before Using A Wine Press, The Stems Should Be Removed:
This primarily applies to pressing grapes. Some stems are alright, but excessive stems left in with the pulp can cause your resulting wine to have excessive tannin. This can give it an astringent flavor. The astringency can age-out over time, but the result of that would be a dark, dusty sediment forming in the bottom of your wine bottles. To remove the stems you can pick the grapes from them, but if you have a larger amount you may want to invest in a grape de-stemmer that does the process for you. A grape de-stemmer typically will crush the grapes as well, so you can handle both process with one piece of wine making equipment.
Whites Are Pressed Before Fermentation, Reds After:
This one often throws a lot of beginning winemakers off. Many assume that the grapes are always pressed before fermenting. In the case of making a white wine, they would be right. The grapes are de-stemmed, crushed, pressed and then fermented. However, when making a red wine, you want to de-stem, crush, ferment and then press. Having the pulp in during the fermentation is what gives a red wine its 'red'. It is also what gives these wines more body than most whites. If the pulp were not in a fermentation you would end up with a blush wine.
Choose A Wine Press That's The Right Size For You:
Wine presses come in all sizes. In general, they all press with the same amount of pressure and extract the juice with the same amount of efficiency. It is simply a matter of how much wine press do you need. Too much press and you won't be able to fill the pressing basket all the time. Not enough press and you'll be using a wine press all weekend. All the wine presses we list on our website also have listed how many pounds of fruit they will hold and the approximate number of gallons of juice you can expect with each pressing.
I am sure there are others, but these are the main tips for using a wine press. If you have a tip on how to make wine using a wine press, please leave it in the comments below. We'd love to hear your ideas.
—–
Ed Kraus is a 3rd generation home brewer/winemaker and has been an owner of E. C. Kraus since 1999. He has been helping individuals make better wine and beer for over 25 years.