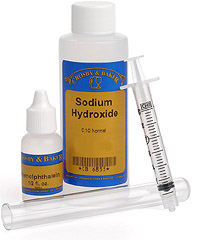 Are you a winemaker who loves to make wine with fresh fruits? If you are, here is one of my quick and easy wine making tips for you. The simplest thing you can do to make your wines better is to start using an Acid Test Kit.
By taking acid level readings of your wine or wine must with an Acid Test Kit you can get the tartness of your wines perfect instead of just close.
This fruit acids along with any Acid Blend you might add to your wine recipes are what control how tart or flat your wines will taste. Too much, and your wines can be enough to give you heartburn. Not enough, and your wines can taste lifeless.
Wine recipes can generally tell you how much Acid Blend to add along with the fruit to get the wine to an acceptable range of acidity — one that's in balance. But the reality is, fruits vary in the amount of acid they bring to a wine. How acidic the fruit is can vary based on the growing season, variety, etc. By testing the acid that the fruit is actually providing, you can know exactly how much Acid Blend to add to make up any difference.
Using an Acid Test Kit is relatively simple. You take a small sample of the wine or wine must and add a couple of drops of an activator solution to it. Then you add a second solution, known as the Reagent. You keep adding the Reagent until the wine sample changes color. By measuring how much Reagent it took to change the wine's color, you can determine exactly how much acid is in your wine recipes.
The Acid Test Kit comes with these two solutions along with a glass test tube and a measuring syringe. So, you'll have everything you need to do the test. But more importantly, the Acid Test Kit comes with complete directions. It also has a chart that tells you what range of acidity your wine should be in for great balance. The directions also tell you how much Acid Blend you need to add to the wine or wine must to get from point 'A' to point 'B'. All the guesswork has been removed.
———————————————————————————————————
Ed Kraus is a 3rd generation home brewer/winemaker and has been an owner of E. C. Kraus since 1999. He has been helping individuals make better wine and beer for over 25 years.