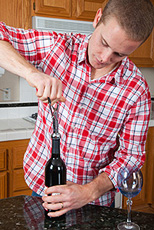 The Wine Institute, a California based organization representing over 1,000 wineries throughout the state of California, stated in it's recent report that the U.S. has now surpassed France in the amount of wine it consumes. In 2010, we Americans consumed some 330 million cases of wine, topping France's 320 million cases for the same year. This makes the U.S. the largest consumer of wine in the world.
While France is still the biggest consumer of wine on a per capita bases, this report still illustrates the continued, growing trend that wine has been enjoying over the past several years within the United States.
In The Shadows Of This Growth…
has also been an ever-present group of advancing home wine makers. While the commercial wine makers have been getting the spotlight, home-grown, private wine makers have been toiling away in their basement and garages–making stupendous wines that have demanded their own moments in the spotlight at county fairs and wine tastings across the U.S.
In America, there have always been individuals making wine, but now there seems to be a shift in who these Americans are and the kinds of wines they make. No longer do you only see rural farmers making a batch of wine from fruits they've grown in their own garden. Now you see individuals from every walk of life making wine: doctors, auto-mechanics, secretaries.
And they're not just making wine from your convenient, garden-variety fruits. These grass-root individuals have all kinds of wine brewing–from actual wine making grapes. Grapes grown in California, France, Italy, South Africa–hundreds of grape varieties grown in every corner of the planet.
For example, you might find someone bringing an Australian Shiraz to a local wine club meeting. While it was technically made in their kitchen, the Shiraz grapes were grown in Australia, giving the wine the pleasant, agreeable characters we all would associate with an Australian Shiraz.
The same could be said for a home wine maker who is making a wine with Merlot grapes grown in California's North Central Valley, or Sangiovese grapes grown in Tuscany, Italy. While the home wine maker makes these wines in their home, the grapes they use bring along with it the character of their growing region, also know as the wine's terrior.
How To Get The Grapes
You may be asking yourself at this point, "How do these home wine makers get these grapes?" That's a good question. It's hard to imagine that these grapes could travel such distances without becoming damaged in some way, and you would be right in this assumption, as it turns out, it's not that hard after all.
In fact, it's simple. The wine industry discovered long ago that the transporting of grape juice is much more safe and effective than the transporting of the grapes themselves. Now, grapes that are destined for travel are first processed. They are put through the grape crushers; then left to sit on the skins as necessary for body and color; then dumped in the grape presses to be pressed.
The juice is not allowed to ferment while in transit. Instead, the fermentation is suppressed and the juice is stabilized. Once the wine is ready to be made, all that needs to be done is to add a packet of wine yeast.
Find Out More…
These juices are now readily available to the home wine maker. In fact, we carry over 200 different blends and varieties of these grape juices on our own website. They come with all the additional ingredients you will need to make the wine: the wine yeast, clarifiers, etc. And they come with amateur-ready directions that are straight-forward and easy to follow.
———————————————————————————————————
Ed Kraus is a 3rd generation home brewer/winemaker and has been an owner of E. C. Kraus since 1999. He has been helping individuals make better wine and beer for over 25 years.