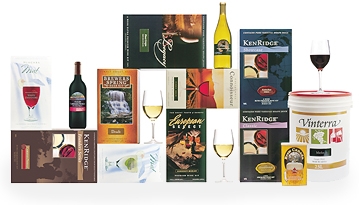 Finally, the numbers are in! We have tallied, checked, scrutinized, scratched our heads, double-checked some more, and licked-our-pencil-sharp to come up with:
The Best Selling Wine Ingredient Kits of 2010!
Yes, that's correct! Listed below are the 2010 winners of each brand of wine ingredient kit we offer. These are the wine varietals and blends that have smacked across more lips than any other type in their particular product group.
This may be an eye-opener for some and a breath of fresh air for others, but in either case, the chart below shows what's been hot and what's been not in 2010. Why not try one of these winners for your next batch?
THE RESULTS

Brand:

Niagara Mist


Best Seller:

 Cherry Pinot Noir 

Brand:

California Connoisseur 


Best Seller:

 

Cabernet Sauvignon 

Brand:

European Select 


Best Seller:

 

Chianti 

Brand:

KenRidge Classic


Best Seller:

 Trilogy

Brand:

Cheeky Monkey


Best Seller:

 Malbec

Brand:

Legacy


Best Seller:

 Merlot

Brand:

KenRidge Showcase


Best Seller:

 Aust. Chardonnay

Brand:

Vinterra


Best Seller:

 Amarone

Brand:

KenRidge Founder's


Best Seller:

 Ital. Super Tuscan
What Are Wine Ingredient Kits, You Ask?
A wine ingredient kit contains all the ingredients you will need to start a batch of wine brewing. All the wine ingredients are packaged together into a convenient ingredient kit form. You get: the grape juice, the wine yeast, wine clarifiers, even oak wood in some cases to give your wine barrel-aged qualities–enough to make 6 gallons of wine (30 bottled).
Many wine ingredient kits even come with decorative wine bottle labels that will give your bottles of wine a professional look, something you can be proud to pass along to family and friends.
These kits make it extremely easy for you to learn how to make your own wine. Complete, foolproof directions are included that tell you specifically what to do and when to do it. They take the guesswork out of the equation and put you on the path to successful wine making, starting with your very first batch of wine.
Happy Wine Making
Customer Service
———————————————————————————————————
Ed Kraus is a 3rd generation home brewer/winemaker and has been an owner of E. C. Kraus since 1999. He has been helping individuals make better wine and beer for over 25 years.