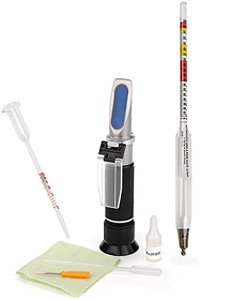 Hi Kraus,
What kind of alcohol tester other the vinometer can I buy to measure the alcohol of my finished homemade wine?
Thanks Joshua
———-
Dear Joshua,
Of all the wine making products that exist, the vinometer is the only one that home winemakers can practically use to test the final alcohol level of a finished wine. It is somewhat accurate when testing a dry wine, but if your wine has any residual sugars, the reading will be thrown way off.
Most wineries rely on a refractometer and/or a gravity hydrometer to determine the alcohol level of a wine. They are both very accurate and easy to use. The drawback is they both require that you take two readings, one before the fermentation and another after.
If you forget or miss taking the first reading, you will not be able to determine the finished alcohol level. The two readings of either the refractometer or gravity hydrometer need to be compared to determine the alcohol level.
There are other ways of testing the alcohol in a wine beside using the vinometer, refractometer or gravity hydrometer, however this brings us into the realm of laboratory equipment and is left for only the larger wineries to practically afford.
Best Wishes,
Customer Service
———————————————————————————————————
Ed Kraus is a 3rd generation home brewer/winemaker and has been an owner of E. C. Kraus since 1999. He has been helping individuals make better wine and beer for over 25 years.