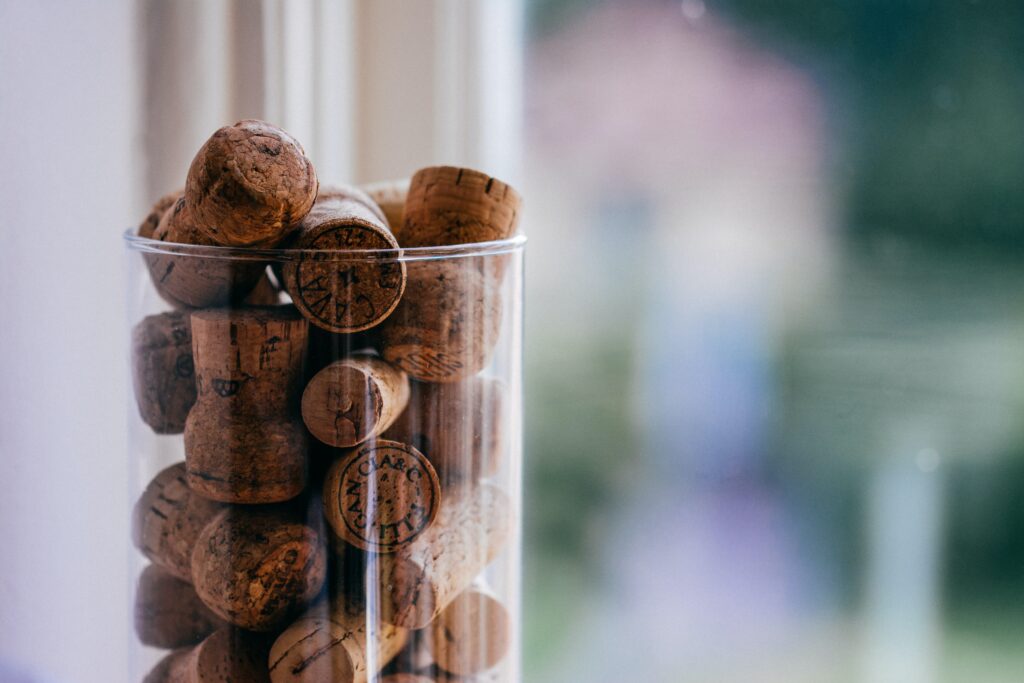 Do you collect your wine corks? Have you thought about doing something more with them? 
Whether you collect for sentimental reasons or just love a wine cork aesthetic, there are a ton of DIY projects they can be used for!
We've put together some of our favorite ways to turn wine corks into functional and fun projects.
1. Wine Cork Game Pieces
Wine corks can make cute, unique additions to any game board. Wine cork Tic-Tac-Toe is a fun, easy game to incorporate in your next game night. 
Paint 10 corks, split into 2 groups, different colors. Use these to play 3D Tic-Tac-Toe, instead of using pen and paper. 
Looking to play chess instead? Simply carve your corks and paint!
2. Wine Cork Corkboard
Why buy a corkboard when you can buy wine?! Using a simple piece of plywood and a hot glue gun, glue wine corks to the board. Let it dry for 30 minutes, and start pinning your favorite photos.
3. Wine Cork Planters
These miniature wine cork planters make for a delightful accent to any desk, table, window sill. Drill a hole into your wine cork and plant your new little friend. 
*This can be tedious, but don't get discouraged! You'll have the most unique decor pieces.
4. Wine Cork Wreath DIY
Get started early this holiday season by making your own wine cork wreaths. 
Take a circular base, such as a cardboard or styrofoam cut out, and hot glue the wine corks onto it. Stack them on top of each other until it covers the entire base. 
Once dried, it's time to decorate! Try incorporating plastic grapes and leaves to give it some holiday flare. 
5. Wine Cork Ornaments DIY
Transform wine corks into mini christmas tree ornaments! Use the cork as the base of the tree, drill a tiny hole, and insert a mini pine piece. 
You could also use the corks to build mini reindeers, or angels. There is a variety of ornaments you can make and hook on your Christmas tree. 
6. Wine Cork Tray DIY
Why buy a tray when you can make them with your wine corks! 
Simply slice your corks into thin pieces, and hot glue them together side by side. You can make them as big or as small as you want and in whatever pattern you want. 
Feeling extra creative? Paint a few (or all) of the corks fun colors and/or add decorations to them!
7. DIY Wine Cork Coasters
Similar to wine cork trays, just smaller. Slice wine corks into thin pieces and create your own designs for your wine cork coasters.
8. Jewelry Organizer
Have you been looking for a jewelry organizer? Look no further than your kitchen!
First, screw a tiny hook into the bottom of your wine corks. Then, hot glue them together in a row. Finally, add a string that connects at both ends so you can hang on the wall. 
If you're not looking to hang it, try hot glueing it to your corkboard you just made!
9. Wine Cork Keychains
Wine cork keychains are simple to make, cute, and pretty handy.
Drill a hole into the bottom and add a hook. Loop the keyring in the hook and voila! 
Congrats on making your wine cork DIY project!
Wine corks are super easy to repurpose and incorporate into your everyday life instead tossing in the trash can. 
If you feel like you might not have enough wine corks for your creation, don't worry, you can buy a bag of wine corks here.
Happy DIYing!