I've heard that Pot Met [potassium metabisulfite] does not need to touch the carboy or bottles to sanitize, but the fumes are what actually does the sanitizing. Can you tell me which is correct?
Name: Bob
State: NY
—–
Hello Bob,
What you have stated above is correct. The SO2 gas that releases from a solution of water and potassium metabisulfite will sanitize the inside of your secondary carboys and primary fermenter buckets. It's very effective, simple to do, and cost efficient.
Put about 2 or 3 inches of water in the bottom of your carboy, then add 1 teaspoon of potassium metabisulfite. It is also very important that you add 1/2 teaspoon of citric acid along with it. Without the citric acid, the SO2 will not release readily enough to do the sanitizing. If you are doing this in a bucket-style primary fermenter you will want to put the lid loosely on the fermenter to cause the gas to linger longer. Do not seal the fermenter or carboy air-tight. Allow the fumes to vent.
You only need to let the sulfite/water solution fume for about 30 minutes, and the fermenter will be sanitized. No need to rinse anything off. Just dump the solution out of the fermenter then add your wine.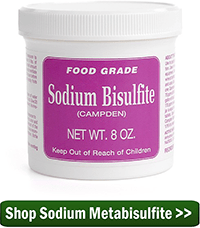 To take this method of sanitizing a fermenter even further, you can also put your smaller pieces of wine making equipment in a primary fermenter while sanitizing it. You can put in: hydrometers, siphon hose, rubber stoppers, air-locks. Anything that will fit in fermenter, and all will be sanitized at the same time.
This method works whether you use the potassium metabisulfite, sodium metabisulfite or Campden tablets. All can be added to water with citric acid to make this fuming sanitizing solutions. To read more about these sulfites you may want to take a look at another blog post: "A Simple Guide To Metabisulfites".
This using sulfite fumes to sanitize can also be applied to wine bottles just as well. Mix up the solution and add an inch or two to each wine bottle. Let sit for 30 minutes; drain then use.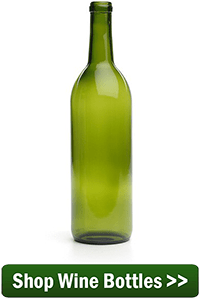 Using a sulfite solution is an easy and effective way to sanitize your carboy and other fermenters and equipment. Hope this information helps you out.
Happy Winemaking,
Ed Kraus
———————————–
Ed Kraus is a 3rd generation home brewer/winemaker and has been an owner of E. C. Kraus since 1999. He has been helping individuals make better wine and beer for over 25 years.