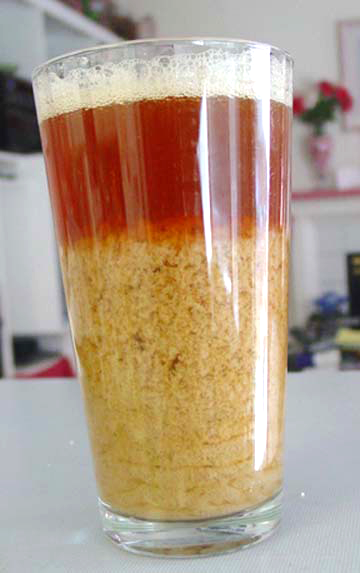 One thing that has constantly surprised me about homebrewing is that once you peel back the mystery on a particular method or aspect of brewing, pretty much everything turns out to be pretty easy. Which is part of the reason it's such a rewarding hobby.
My latest discovery is reusing homebrew yeast. I've known since I started homebrewing that people would reuse and even "wash" yeast cake, but after reading about it and watching videos, it seemed like a process, which was difficult and was prone to introducing infection.
In addition, when you have racked your fermenter into a bottling bucket or keg, let's face it, the stuff that's left over is pretty nasty.
Well, a few weeks ago, I realized I had quite a few partial bags of hop pellets leftover from previous brews, so I decided to make a "kitchen-sink" beer to use up as much of those as I could. As chance would have it, the ideal day for brewing that was the day after I was going to be bottling a different batch of beer in which had used US-05 yeast. So, I decided that as long as I wasn't going to spend money on hops and this was a largely experimental beer, I might as well try reusing the yeast from the primary fermenter.
I had read about an experiment where the brewer had used a pint or so of the yeast slurry at the bottom of a primary fermenter, along with new homebrew yeast which had been made into a starter. He brewed a batch, and split it into two fermenters, pitching the different yeasts. To make a long story short, there wasn't much noticeable difference in the finished beers.
Well, that was enough for me, so in this latest batch, I just grabbed a little over a pint of the yeast cake from the primary fermenter. I put it in a mason jar in the fridge over night. The next day I took it out of the fridge in the morning, and when ready to pitch, I decanted off the liquid on top and pitched the sludge into my experimental beer.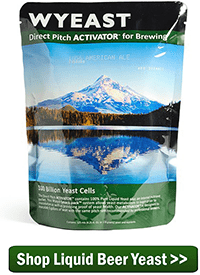 The reused homebrew yeast took off pretty fast, and within four hours, it was bubbling away in the airlock. A little faster starting, but otherwise really nothing different than usual. I will say I noticed a larger krausen ring than I normally see. I cleared with gelatin, bottled, and waited.
I've been drinking this batch for about a week now. It's not a heavy beer, but was meant to be a lighter beer. Not hoppy, but very well balanced. Very enjoyable, and in fact, as much as I hate to admit, it's a little better than the previous batch which is a beer I've brewed quite a few times.
I am very happy with my decision to reuse the homebrew yeast cake from the primary fermenter, and I would encourage everyone to give it a try.
Do you ever reuse homebrew yeast? Why or why not?
—–
John Torrance is a database developer, gadget lover, and avid home brewer living in Lafayette, Colorado. When he's not actively brewing, he's generally daydreaming about what he's going to brew for his next batch.