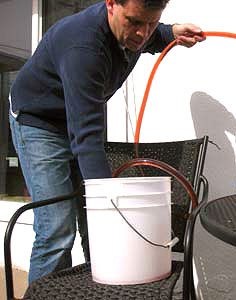 I have been making your wine for many years. Every time i make a wine kit I have that air space in the top of the carboy. I use to add wine I already made to the carboy to top it off but it takes 2 bottles and that kills me. I am very conservative with the racking tilting carboy on one side to minimize loss and only rack once. I like to bulk age but I am concerned about the effects of the air so I bottle as soon as possible. Is there an option that makes sense. can the sediment be run through a filter to retain more wine?
Name:
Joe G.
State:
RI
The first thing I'd like to say is two bottles seems like a lot. We need to figure out what's going on.
The first thing to consider is maybe you are not starting out with the full amount. So you might want to double check any level markings that are on your primary fermenter to confirm that they are correct. Make sure you are starting with the full amount intended.
Assuming that you have measurements correct, I suspect that it is the way you rack your wine that is at issue here. You stated that you only rack your wine once. I believe that you can get more wine by doing more rackings. Here's how:
You should be doing 3 rackings:
One on about day 5 of the fermentation

Another after the fermentation has completed

One more right before bottling.
Some winemakers will even add a fourth racking between the fermentation completing and the one before bottling. This is particularly important if you want bulk age your wine.
Here's the trick that will get you more wine
When doing the first two rackings, get as much liquid as you can, even if there is sediment coming along with it. Only worry about getting all the liquid at this point. You are only concerned with getting rid of the bulk of the sediment at this time, not all of it. If you try to leave all the sediment behind at this stage you will be wasting a lot of wine.
It is only when you get down to the very last racking that you need to worry about leaving all the sediment behind. But fortunately for you, by the time you get to this stage there should only be a dusting of sediment left to deal with. By racking your wine in this way you will be surprised to find that you may loose about a half a bottle of wine, at the most.
As to your question about filtering the sediment through a some type of filter, there is no successful way I know of to do this.
This issue being that that amount of sediment will clog the filter almost immediately. It is important to understand that the sediment from the yeast itself is as fine as flour, so most filters wouldn't help anyway. Even a coffee filter would allow
all
of the yeast sediment to pass through.
I have heard of people putting the sediment in jars or jugs and let it separate while under refrigeration, but it my view it is hardly worth the effort, nor is it necessary if you rack your wine as described above.
Happy Winemaking,
Ed Kraus
———————————————————————————————————
Ed Kraus is a 3rd generation home brewer/winemaker and has been an owner of E. C. Kraus since 1999. He has been helping individuals make better wine and beer for over 25 years.