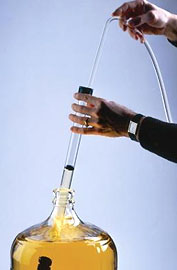 I used too much Speedy Bentonite to clear my last batch of wine. The bentonite worked, but there is a bunch of sediment. I racked off the wine that was clear. It tasted fine. There is about a gallon and a half of sediment. Will the bentonite continue to settle and is it worth the time and trouble for a few extra bottles
Name: Hans Wikle
State: WV
Hello Hans,
The general rule-of-thumb is to always get as much liquid as you can when you rack (siphon) your wine, even if it comes along with some sediment. It is only during your last racking, before bottling, that you need to be concerned with leaving all the sediment behind. By the time you get to that part of the process there will be little more than a dusting of sediment to avoid.
If you use this approach what you will discover is that your homemade wine will be just as clear when it comes time to bottle, and you will have much less loss of wine. This is true whether or not you add Bentonite to the wine.
You said you have already racked the wine, so I am assuming that you have a fermenter with this sediment and liquid in the bottom. Go ahead and try to get the liquid out and add it to your new fermenter that you just racked into. In the future, when your rack your wine, don't stop when you get to the sediment, just keep going until you have all the liquid.
One item you may want to consider purchasing is a racking cane. It is basically a piece of clear rigid tubing that you slip onto the end of your siphon hose. Not only will it help you to direct where your siphon is pulling from (like a wand), it also comes with a diversion cap on the very tip of the wand. This keeps your from accidentally digging the racking cane into the packed sediment and drawing it. These racking canes come on all different  lengths and have a curve at the top-end so that you do not have to worry about your siphon hose crimping as it comes out of the fermenter.
Best Wishes,
Ed Kraus
———————————————————————————————————
Ed Kraus is a 3rd generation home brewer/winemaker and has been an owner of E. C. Kraus since 1999. He has been helping individuals make better wine and beer for over 25 years.