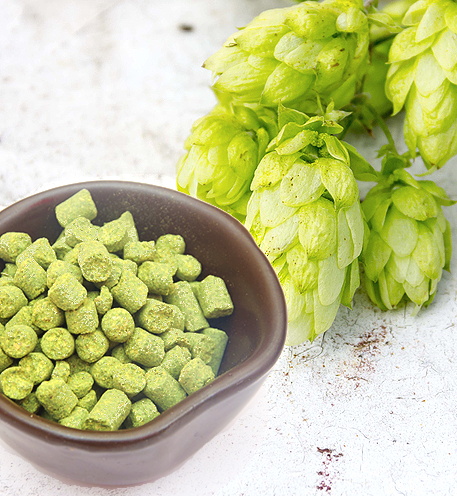 Among the "this or that" debates of homebrewing, the question of whether to use pellet hops or whole leaf hops is primarily a matter of personal preference. But, there are a few things to consider when deciding what kind of hops to use when brewing.
Pellet Hops vs Whole Leaf

The term "whole leaf" is a bit of a misnomer when it comes to talking about hops. Brewers use the flowering part of the hop plant, often called a cone or a strobile. When hops are harvested, the pinecone-shaped flowers are picked by hand or with a machine. Then the hops are dried in an oast. Next, if the hops are being processed into pellets, the hop cones get milled and pressed into pellets. Finally, the hops are pressed into bales, vacuum packaged, sealed, and stored cold.
One of the main arguments against using pellet hops in your beer is that heat generated during the pelletizing process can degrade the quality of the hops, but most any modern hops farm will take precautions against this. You can be confident that any of the major hop producers you buy from have taken care to prevent any degradation due to pelletizing of the hops.
Without further delay, below are several of the pros and cons of pellet hops vs whole leaf.
Less plant material means less wort gets lost in the kettle trub, improving brewhouse efficiency.
Pellet hops offer slightly higher hop utilization, meaning more IBU bang for your buck.
Pellet hops store well.
Pellet hops are readily available.
Pellet Hops: Cons
The processing of the pellets may damage some of the aroma compounds in the hops. That said, with modern harvesting and processing techniques, actual damage is likely negligible. Hop pellets are used by brewers all over the world.
Since the hop material is shredded, it can sometimes clog spigots and tubing. A bazooka screen can be installed inside the brew kettle to protect against this.
Whole leaf hops can be used as a filter bed when drawing wort from the brew kettle.
Whole leaf hops are the best option if brewing a wet hop beer.
Some think whole leaf hops offer better flavor and aroma characteristics. Sierra Nevada uses exclusively whole leaf hops. Randy Mosher, author of Radical Brewing, also prefers whole leaf hops.
Leaf Hops: Cons
Whole leaf hops take up more space in storage and in the brewing kettle.
Whole leaf hops offer slightly less hop utilization than pellet hops.
Whole leaf hops may not always be available or their selection may be more limited.
There you have it. There are some of the pro's and con's of pellet hops vs whole leaf hops. As you can see they are somewhat minor, even thought there is a minority who believe whole leaf is the only way to go. In the end, both can be used to make excellent beer.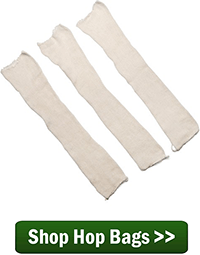 So what's your preference – pellet hops or whole leaf?

—————
David Ackley is a beer writer, homebrewer, and self-described "craft beer crusader." He holds a General Certificate in Brewing from the Institute of Brewing and Distilling and is founder of the Local Beer Blog.