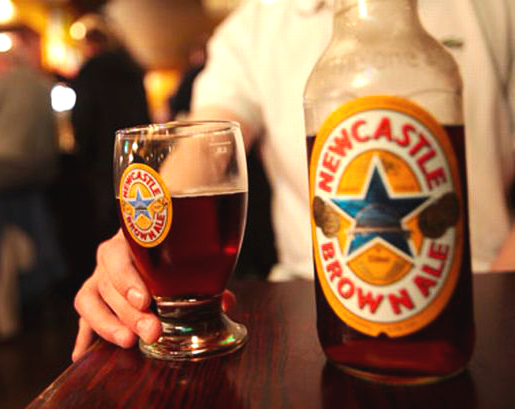 Considered by some to be the quintessential northern English brown ale, Newcastle was at one time the best-selling bottled beer in the UK. The beer, now ubiquitous throughout the US, was originally brewed in 1927 at Newcastle Upon Tyne. It's a reddish-brown ale that highlights nutty malt flavor.
Though Newcastle is now brewed by the macro-brew powerhouse Heineken, many craft beer drinkers remember it fondly as a "gateway beer" to other traditional beer styles from around the world. Brew this Newcastle clone beer recipe and rediscover your love for brown ales!
Newcastle Brown Ale: Ingredients and Procedures
Malt – The key component in this brown ale is the crystal malt. The mid-range crystal 60°L malt is responsible for the nutty flavor in the beer. Small amounts of chocolate and black malt contribute color and a hint of dryness.
Hops – The classic English hop, East Kent Goldings, is used mostly for bitterness. Some hop flavor should be detectable, but will not overpower the malt.
Yeast – English ale yeast for this style of beer is essential. In the traditional brewing of this beer, the brewers would actually brew two separate beers, one high-gravity and one low-gravity. The high gravity beer would encourage the yeast to produce more fruity esters, which can then be blended down by the lower gravity beer. This is a lot of extra work for the homebrewer and is completely optional. It's not impossible to do, but you'll need an extra fermenter. It will be easiest if you're using the all-grain method, taking the first runnings for a high-gravity boil, and the second runnings for the low-gravity boil. Then ferment the beers separately and blend them together at bottling time. (Again, this is completely optional.)
The beer recipe below is modified from the American Homebrewers Association. It was original printed in Zymurgy Magazine.
Newcastle Brown Ale Clone Beer Recipe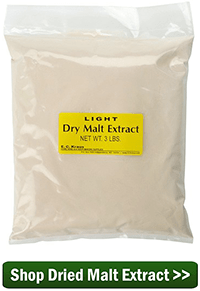 (5-gallon batch, extract with specialty grains)
Specs
OG: 1.049
FG: 1.012
ABV: 4.8%
IBUs: 26
SRM: 15
Ingredients
5.5 lbs. light dry malt extract
12 oz. Crisp 60L crystal malt
4 oz. torrified wheat
1.5 oz. black malt
1.5 oz. Crisp chocolate malt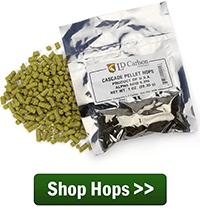 1 oz. Kent Goldings hops at :90
1 oz. Kent Goldings hops at :30
1 tsp. Irish moss at :15
Fermentis Safale S-04: English Ale Yeast
corn sugar for priming
Directions
Heat about 3 gallons of clean, chlorine-free water to 150˚F. Place crushed grains in a grain bag and steep for 30 minutes. Discard grains and bring wort to a boil. Remove from heat, and stir in the malt extract. Return to a boil, taking care to avoid a boilover. Boil for 90 minutes, adding hops and Irish moss according to schedule above. At the end of the boil, chill wort to 70˚F or boil. Add enough cool, chlorine-free water to make five gallons of wort. Mix well with a sanitized spoon to aerate, then pitch yeast. Ferment at 65-70˚F. When fermentation in complete, bottle with priming sugar and cap. Beer will be ready to drink in 2-3 weeks.
Do you have a Newcastle brown ale clone beer recipe you'd like to share? Just leave it in the comments below.
—–
David Ackley is a beer writer, brewer, and self-described "craft beer crusader." He holds a General Certificate in Brewing from the Institute of Brewing and Distilling.