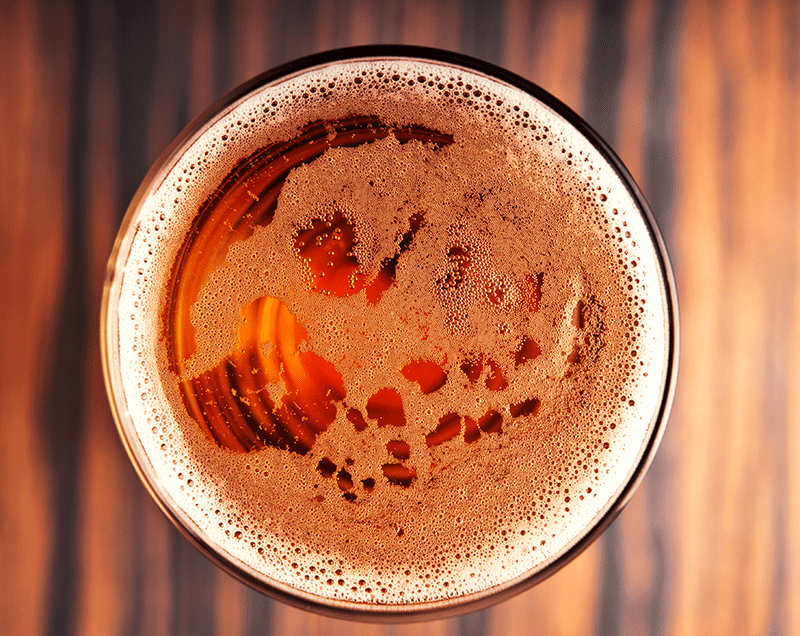 I brewed a batch of beer as directed. It has set for 4 weeks bottled in a room of 60 to 65 degrees. When opened it had almost no carbonation.
Name: Don C.
State: Mo.
—–
Hi Don,
Sorry your beer is still flat. Let's see if we can figure out why it won't carbonate.
Beer carbonates when beer yeast consumes sugar and excretes CO2, and the CO2 has no where to go but into solution because the beer bottle or keg has been sealed. Let me share some theories with you about what's going on and some possible fixes for your flat beer.
The problem you're describing is probably caused by one of the following:
Not enough time/ the room's not warm enough – I understand you've waited four weeks already, but if you did everything correctly, chances are very good that with more time and the beer bottles located in a slightly warmer room, your beer will carbonate. Some beer yeasts work more slowly than others, and high gravity beers generally take longer to carbonate. I know it's tough with all that beer sitting there, but patience may be the answer to fixing you flat beer.
Not enough priming sugar – If you brewed the beer as instructed, this probably isn't the case. However, did the priming sugar get well-mixed into the beer? I usually pour the sugar/water solution into the bottling bucket first, then siphon the beer into it. This usually mixes things up pretty well. I also recommend checking out this calculator, which shows the correct amount of priming sugar to use based on temperature, desired carbonation level (vols CO2), and type of sugar.
Non-fermentable or slowly fermenting priming sugar – If for some reason you used a non-fermentable sugar to prime your bottles, such as lactose sugar, it's probably not going to give you any carbonation. Similarly, if you used a complex sugar to prime, it may just take longer for the yeast to ferment those complicated sugar molecules. Corn sugar, cane sugar, and dried malt extract work best for priming.
Bad seal on the bottles – It's possible that there isn't a good seal on your beer bottles, allowing CO2 to escape. The result is a flat beer or a beer that won't carbonate completely. This could be the case if you're using a twist-off instead of pop-off style beer bottles. You could also just be getting a bad seal when you cap.
Yeast killed off – If there was sanitizer left in your bottles or bottling bucket, there's a small chance that yeast got killed and whatever yeast that's left is having a tough time carbonating your beer. If you use a "no-rinse" sanitizer on your bottling bucket and bottles, make sure the sanitizer dries completely before use. I usually rinse after sanitizing, even when using a no-rinse sanitizer.
How to fix a flat beer that won't carbonate
So, what can be done to fix a flat beer? Here are a few possible ways to carbonate your beer, with the easiest and most likely solutions listed first:
Hurry up and wait…then wait some more – The first thing I would do is move the bottles to a room that's a little warmer, consistently around 70°-75°F degrees, to try to "wake up" the yeast into carbonating your beer. 99% of the time, this will fix your problem. If it doesn't fix the problem after 8 weeks or so, you'll need to take more drastic action. Keep in mind that higher gravity beers may just take longer to carbonate than others.
Add more sugar – If you've already waited for eight or more weeks and know that you didn't add enough priming sugar, you could open up each bottle and add a pinch more. It's important to be very careful with this — if you add too much sugar, you could get some bottle bombs. It is possible to create so much carbonation pressure in the bottle that the glass will fail. Move the bottles somewhere safe where they won't hurt anyone and won't make too much of a mess if they explode.
Keg it – In theory, you could open up all the beer bottles and pour them into a keg, then prime or force carbonate with CO2. Then again, if you have a keg, you probably wouldn't be bottling, would you?
Add more beer yeast – I've heard of homebrewers adding a few grains of dry yeast to each bottle of flat beer to help it to carbonate, but this sounds like a recipe for a bottle bomb, so I wouldn't recommend it.
Again, if you did everything right, the best thing to do is just wait it out. I'm as guilty as anyone of opening up a homebrew before it's ready, but in homebrewing, as in life, patience is a virtue. Give your flat beer some more time, and see if that doesn't get it to carbonate.
Thanks again for your question and good luck,
David Ackley
—–
David Ackley is a beer writer, brewer, and self-described "craft beer crusader." He holds a General Certificate in Brewing from the Institute of Brewing and Distilling.