I'm getting ready to bottle a 12-gallon batch of California Connoisseur Pinot Noir. As always, everything went off without a hitch. I like my wine semi-dry, and would like to try sweetening with commercial store-bought honey this time, following the same Metabisulfite and Potassium Sorbate protocols for sugar. Any cautionary words of wisdom?
Name: Putnam J.
State: New York
—–
Hello Putnam,
I see that you're up for a little adventure. You are correct in your assumption that potassium sorbate, potassium metabisulfite will need to be added to the wine kit at bottling time along with the honey. It's no different than sweetening the wine with cane sugar or any other sugar that potentially provides food to the wine yeast.
All I can really say about sweetening a wine with honey is that you should take your time. Be sure-footed in what you do. You can always add more honey later to the wine, but taking it out is not an option. This is true for almost anything you add to a wine to adjust flavor.
For the most part, honey will sweeten the wine just as well as cane sugar. The sweet part is mostly the same. It's the additional character that honey brings along with the sweet that makes it more adventurous. Depending on what the bees spun the honey off of — wildflowers, cherry blossoms, buckwheat, etc. —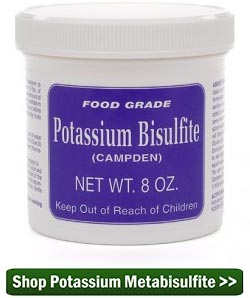 the subtle notes and aromas added can vary from herbal, to fruity, to citrus. You may like it and consider it an improvement on the wine, but you may also decide you can't stand it. Don't assume that the honey will make the wine better. Try it out on a sample and see.
Bench testing is the best way I know to sweeten a wine with honey. Take a measured sample of the wine, like a gallon or half-gallon, and start adding measured doses of the honey. Taste the wine between additions and see what you think. If you're not sure, stop and come back to it another day.
If you decide that you don't like what the honey's done to the wine, switch back to cane sugar or something else. If you like the honey, but have added too much, blend the sample back in with the rest of the wine. Collect a new measured sample and start all over.
Once you establish a dosage, apply that dosage to the rest of the wine. This is the safest way I know to sweeten a wine with honey.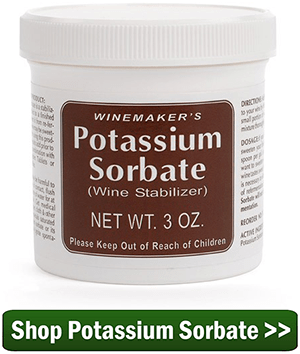 Take your time. Sweetness is a major component of a wine's flavor profile. For example, when I think I know what I want to do, I like to wait and come back later that day, or even the next day, and taste the wine again before moving forward.
Putnam, I hope this was the type of information you was looking for. It's fun to play around with a wine, but it can also be a little nerve-racking at times. Hopefully, these little tips and insights on how to sweeten a wine with honey will keep you on a good path with your wine.
Happy Winemaking,
Ed Kraus
—–
Ed Kraus is a 3rd generation home brewer/winemaker and has been an owner of E. C. Kraus since 1999. He has been helping individuals make better wine and beer for over 25 years.