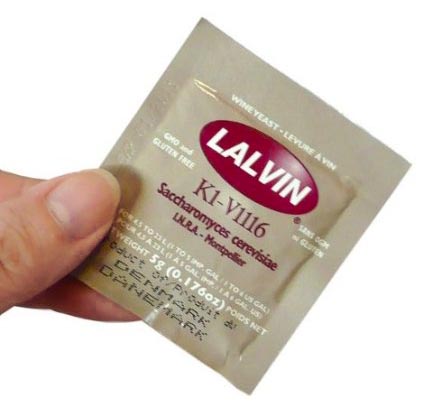 I completed a wine recipe for 1 gal of Dandelion Wine. My Question is: The packet of wine yeast I received was enough for 5 gals of wine. In my logic I decided to just use on 1/5 of the yeast. I poured all the yeast out on a dish and divided it into 5 equal portions. Then I used just 1/5 of the yeast for my 1 gal of wine. Was this correct? I don't know how much wine yeast to use.
Thanks,
Bill
—–
Dear Bill,
Thank you for this great question on how much wine yeast to use. You've done what many home winemakers have done. It make perfect sense and is very logical. However, the amount of wine yeast you should use is one whole packet, even if you are just making 1 gallon of wine. There are a couple of reasons for this:
What you are adding to the wine is not an amount of wine yeast as much as you are adding a starting colony of yeast. The wine yeast in the packet represents the minimum number of yeast cells recommend to start a viable, active fermentation, regardless of batch size. When adding a packet of yeast to 5 or 6 gallons of wine, the yeast will typically multiply to around 100 to 150 times what you start with.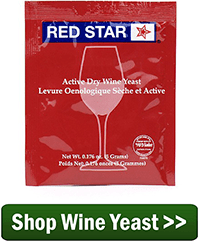 In the case of a one gallon batch of wine, the yeast will multiply to many times its original size, but not quite as many times as it does when pitched into a larger batch. The yeast will reproduce itself into great enough numbers to complete the job at hand.
So, when you add a whole packet of wine yeast to 1 gallon of wine, you are not adding too much yeast. You are simply adding the minimum amount required to support a healthy, active fermentation. Adding less then a packet could result in a slow starting fermentation that will take extra time to finish the job. It may also over-work the yeast which can result in off-flavors.
There is also the issue of what to do with the rest of the wine yeast anyway. These packets of yeast are packaged under sterile – not food-grade – conditions. They are sealed with nitrogen gas to maintain this sterile level of freshness while in the package.
Once they are opened, they are no longer sterile. The seal has been compromised. So, storing an opened package of wine yeast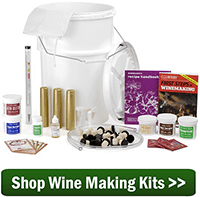 for any length of time is really not a good idea, particularly when you weigh it against how much a packet of wine yeast costs.
So the answer to the question: "how much wine yeast to use?", is very simple. Always use the whole packet up to 5 or 6 gallons. If you are making more wine than this, add a second packet.
Happy Wine Making,
Ed Kraus
—–
Ed Kraus is a 3rd generation home brewer/winemaker and has been an owner of E. C. Kraus since 1999. He has been helping individuals make better wine and beer for over 25 years.