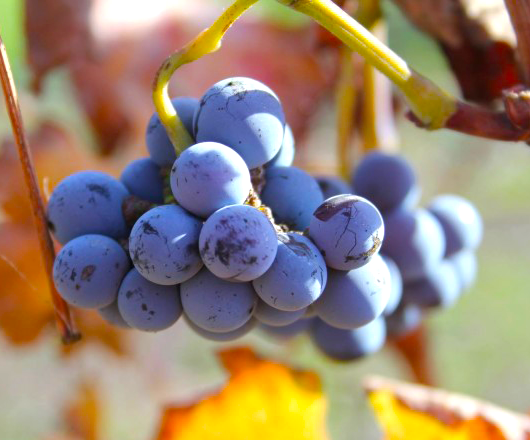 Why is my grape juice bubbling and I have not added my yeast yet.
Name: Jerry R.
State: PA
—–
Hello Jerry,
The simple answer is your juice is naturally fermenting because of wild yeast. This is why a wine will ferment without adding yeast, at all.
Yeast is everywhere: floating in the air, landing on plants and animals. It is ubiquitous to the nature in which we live. Your grape juice either picked up some wild yeast somewhere, or it started naturally fermenting from yeast that were on the grapes themselves.
Most of the time, vineyards selling fresh grape juice to home winemakers will treat it with sulfites such as potassium metabisulfite to destroy any of the wild yeast and to temporarily protect if from fermentation and spoilage. This would eliminate any chance of a wine fermentation occurring from the natural yeast that was on the grapes.
But there is still the issue of the wild yeast that is floating around. From the oranges sitting on the kitchen counter to the cat who just came inside for a little nap, the sources of yeast are many and unstoppable.
Once a few cells of the wild yeast make it to your wine juice, then it becomes party time. A wine fermentation will ignite with the natural yeast. Slowly, the yeast will start to consume the sugars and use that for energy to multiply themselves into a larger colony. As the colony becomes larger the growth will slow down and the focus will turn to the productions of alcohol. This is how a wine ferments without adding yeast.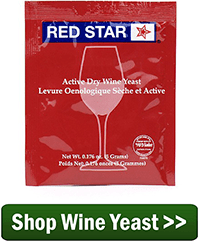 What is described above is no different than what happens when you add a domesticated wine yeast. This begs the question, "why add yeast at all?" The answer is simple, with wild or natural yeast you never know what you are getting. Yeast is not just yeast. There are thousands of yeast strains, and with each strain are an endless number of varying mutations.
With a domesticated wine yeast: 1) you know what you are getting, 2) the strain is kept consistent, and 3) the strain has been bred for a specific characteristic, such as alcohol tolerance, flavor profile and such. Domesticated wine yeast pack more firmly on the bottom of the fermentation vessel as sediment so you can more easily rack the wine off of it. You may want to take a look at a wonderful article we have on the reasons you should use a domesticated wine yeast.
Now that you know your wine fermentation is from natural yeast. What should you do?
Fortunately, there is a simple remedy for such a situation. Wild or natural yeast are not very resilient to sulfites, and sulfite is the active ingredient in Campden tablets, potassium metabisulfite and sodium metabisulfite. All you need to do is add a dose of any one of the above, and the wild yeast will easily be destroyed and no more natural fermentation. Wait 24 hours, then add a domesticated wine yeast to the juice. During this 24 hour period you should leave the grape juice uncovered, or at most, covered with no more than a thin towel.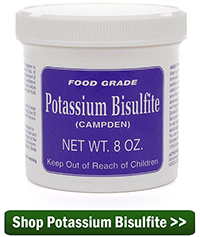 This will allow the sulfur to release as a gas and dissipate. Once the domesticated wine yeast has been added, you should see a renewed fermentation start within 24 to 36 hours.
Having a wine ferment from natural yeast is not a horrible thing but it is something you'd prefer not to have. It's like rolling the dice with Mother Nature. The important thing to understand is that a wine fermentation can occur without adding yeast, but there is something you can easily do about it.
Happy Winemaking,
Ed Kraus
—–
Ed Kraus is a 3rd generation home brewer/winemaker and has been an owner of E. C. Kraus since 1999. He has been helping individuals make better wine and beer for over 25 years.