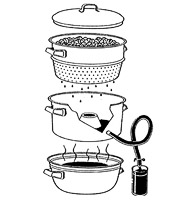 If you're the kind of home wine maker that always seems to have fresh fruit coming your way, one piece of homemade wine equipment you should have on hand is a steam juicer.
It works beautifully for extracting juices from a huge variety of different fruits, so no matter what type of fruit ends up falling your way, the steam juicer will be able to help you to turn it into wine.
A steam juicer works by bursting the fruit with steam and then collecting the fruit's juice as it freely drains from the pulp.
As you can see in the diagram on the right, the fruit is put into a perforated pan with a lid. This pan then sits on top of a collector pan. All this sits over a pan of boiling water which is being heated by your stove.
As the water boils, steam rises through the opening of the collector pan to the fruit. As the fruit breaks down from the steam, it releases the juice from the pulp. The juice then falls through the perforated holes into the collector pan.
From there you can drain the juice into canning jars for later use, or you can drain it directly into your fermenter so you can start making your next batch of wine.
———————————————————————————————————
Ed Kraus is a 3rd generation home brewer/winemaker and has been an owner of E. C. Kraus since 1999. He has been helping individuals make better wine and beer for over 25 years.