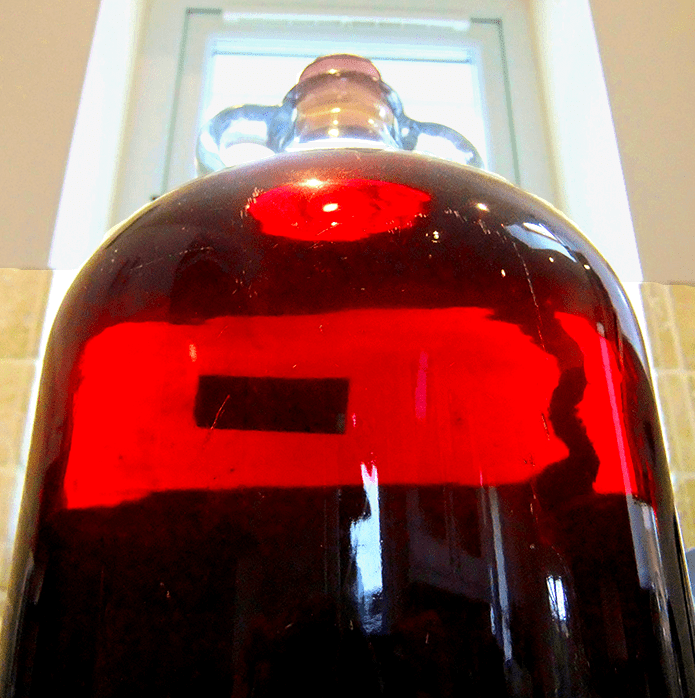 Please give me any advise on clearing wine. I have a Red wine not clearing?
Name: Bruce K.
State: CA
—–
We get asked this quite often: how do you clear a cloudy homemade wine? Clearing wine can be a big concern for the first-time winemaker, especially after they see just how cloudy a homemade wine gets right after fermentation – not to worry, though.
If given enough time, it is most likely that the cloudy wine will clear up and stabilize completely on its own. Gravity will take over and eventually everything will settle to the bottom as a deposit. But there are still some things you can do to speed things along and make sure it happens and to avoid any wine clearing problems.
If the wine has just completed its fermentation, it is typical to add a dose of bentonite. This is a wine clearing agent, also referred to as a fining agent. Adding bentonite to a wine will help the proteins in the wine (including yeast) to clump together and drop to the bottom more readily. After a few days you can then rack the wine off all the sediment.
Most winemakers would stop at clearing wine with bentonite, but if you wished you could also add Sparkolloid. This is another wine clearing agent. It was designed to compliment the bentonite. While bentonite will collect and drop negatively charged particles, Sparkolloid will collect and drop out positively charged particles. Again, you would wait until the sediment stops accumulating and stabilize, then rack the wine off of it.
One could then follow up by treating the wine with a polish fining agent before bottling. This could be something like isinglass, Kitosol 40 or gelatin. Either of these will add a brilliant clarity to the wine. Just like the others, it works by dropping sediment out of the wine, so racking will be necessary before bottling the wine.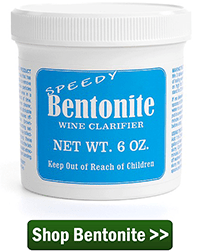 Beyond these things you could use filtration for clearing wine. There are filtration systems specifically designed for filtering the finest of particles from a wine. So fine, that you can not see them with the naked eye.
These wine filters are not at all effective in clearing a cloudy-looking wine. They work so good that the filters would clog very quickly. The wine needs to look clear before filtering it. That's what you can use the bentonite or other wine clearing agent for.
What wine filters are good at is adding a luster to the wine that can at times bring astonishing beauty to the wine. A wine filter can take a perfectly clear looking wine and make it look like a solid hunk of glass in the wine bottle.
Now that you know all these ways you can clear a cloudy homemade wine, here's the bad news: it is possible to over-treat a wine. In fact, if you did all the things mention above to the same wine, the wine would suffer. It would lose more body and color than necessary. The character of the wine would be diminished, leaving you with a flatter, more uneventful wine.
So, how do you clear a cloudy homemade wine without ruining it? Treatment for clear wine must be used in moderation and with a plan.
As mentioned earlier, you could do nothing. Just wait and see if the wine will clear up sufficiently on its own. Most of the time it will clear to some successful degree and stabilize.
You could do everything possible to make sure you have the clearest, most beautiful wine possible, but nothing you can really enjoy.
Or you could do what most winemakers do and hit a happy-medium. Many wine makers are happy with clear their wine with bentonite and be done with it. Another typical course of action would be something like clearing the wine with bentonite after fermentation. Then clearing the wine with gelatin before bottling. Or one might: bentonite after fermentation; then filtration, then bottle. Or, bentonite, Sparkolloid, bottle.
As you might be starting to see there are many possible answers to the question: how do you clear a cloudy homemade wine? Any of the courses of action in number 3 above, will get you a wine that is not cloudy, but what is the best way for you is something you'll need to figure out. There is some art to clearing wine. You need to be able to know when to hold back, and you need to be able to choose with method is right for you situation at hand.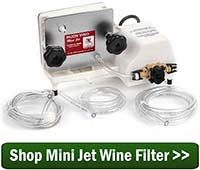 Bruce, to answer you question more directly, since you are indicating that the wine is having problems clearing, I would start by treating the wine with bentonite. If the wine does not clear, then I would try Sparkolloid. At minimum, one of these two wine clearing agents should show improvement. After that you will need to decide if you want to stop there, or possibly treat the wine with gelatin before bottling or maybe even filter the wine. The choice is yours.
Happy Winemaking!